Product Features
Powerful pump
The water pump of gravel vacuum cleaning provides a strong water flow of up to 360 GPH. It is powerful enough to change the water and suck out debris and fish waste from the aquarium quickly.
Adjustable handle
The aquarium vacuum gravel cleaner has 4 extension tubes for a total length of 40.5 inches. It can be extended from 11.4 inches to 40.5 inches. Applied for tank cleaning, whether it is short or tall.
Powerful water change function
With a 4.92 feet super high head, the water changer pump can provide a strong flow of up to 360 GPH. The power of the sand washer is sufficient to quickly change the water, saving half the time compared to the manual. The starting water level can be as low as 2 inches, with no water accumulation, and pumping as low as 0.3 inches.
Handy filtration function
The filter housing can filter the garbage in the water and make the clean water return to the tank. The fish tank can be filtered without changing water, and the dirt is directly passed through the filter box. The filter sponge can be repeatedly cleaned and reused and can be replaced with other filter media.
Safe design
This electric aquarium vacuum cleaner has a high-density new plastic and a detachable design. It is wear-resistant, lightweight, and anti-fall. The adapter is AC 110 V 60 Hz, and the power supply has passed UL certification which is safer to use. Safe and independent switch control is easy to operate. You no longer need to worry about unplugging the socket with wet hands.
Directions for Use
Refer to the picture below to build the cleaner.

Please refer to the information listed in the Specifications section that demonstrates the parameters and functions of the accessories included in the package.
Specifications
Power: 15 W
H-MAX: 4.92 feet
F-MAX: 360 GPH
Voltage: AC 110 V / 60 Hz
Total Line length: 9.2 feet
Outlet: 5/8″
Gravel Washer (Sand vacuum)
Size: 6.7″ x 1.6″
Function: Quickly clean sand and gravel.
Brush Head
Size: 3.9″ x 3.3″
Function: It can clean the dirt on the wall of the fish tank.
45° Corner Suction Inlet
Size: 1.2″ x 1.2″
Function: To help you block the landscape sand in the fish tank when changing water.
Duckbill Suction Inlet (Debris vacuum)
Size: 2.2″ x 2″
Function: Clean up fish stools and residues at the bottom of the fish tank.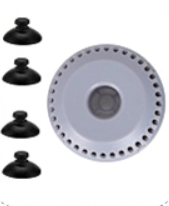 360° Water Intake Strainer
Size: 1.6″ x 3.1″
Function: 360 ° water inlet, quicker water change.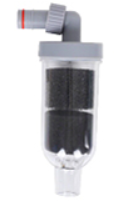 Filter Housing
Size: 5.1″ x 2″ x 0.79″
Function: It can filter impurities and feces in water.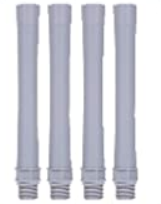 Spiced Extension Tube X 4
Size: 7 inches
Function: The length can be changed at will. It is suitable for various sizes of fish tanks.
Non-slip handle
Size: 4.3 inches
Function: Anti-slip handle.