Description
Efficient Tools For Aquarium Cleaning
hygger aquarium cleaning tools kit makes it much easier to do tank maintenance, it is great for keeping the fish tank clean including the glass and the sand. The long handle saves you the trouble of getting your hands in the tank when cleaning the aquarium.
The 6-in-1 cleaning kit includes a long handle, a razor-scraper (with a guard), a fish net, a bristles brush, a replaceable sponge, a gravel rake, and a V-shaped fork. The aquarium cleaning set is suitable for small-to-medium-sized aquariums.
Upgraded Tough Scrub Sponge
The aquarium cleaning scrub pad is upgraded with two layers of tough sponge which could clean the buildup quickly and effectively without scratching walls, it is suitable for glass fish tanks and acrylic fish tanks. The fastener design is easy to replace by cutting a new piece from a proper sponge and hooking it on.
6-IN-1 Multifunctional Attachments
This cleaner for the aquarium includes 6 tools.
1. Metal scraper for getting the tough buildup off.
2. Big fish net for picking up waste or transferring fish into a temporary tank.
3. Firm scrub brush for sweeping air stone, power head surface, and back corners.
4. Sponge pad for scrubbing glass surface.
5. Gravel rake for combing the sand, and gravel and loosening the substrate soil.
6. A V-shaped fork is an added tool for resetting plants.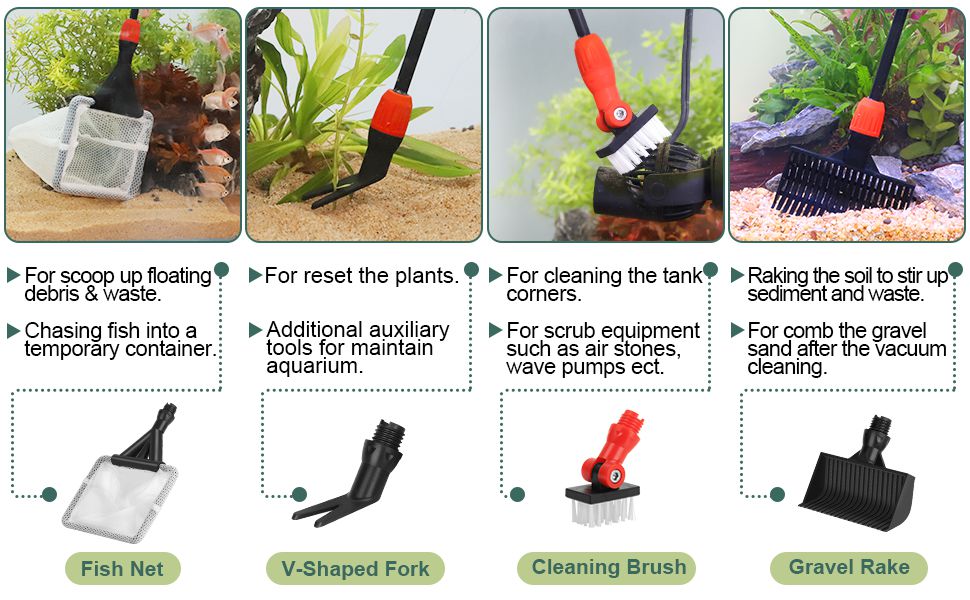 Ergonomic Handle
Each handle features a small hole at the handle end for a hanging option, which allows for air drying. The S model has a 17.7 inch long handle which is comfortable to hold, which makes the tough scrubbing much easier. The M model has a telescopic design makes it can be adjusted freely from 17.5″ to 28.7″ to meet various tank size needs, which can reach up to 27.5″ deep.
Each handle features a small hole at the end for hanging and air drying.
Easy To Interchange & Use
These cleaners for aquariums make it easy to change heads without tools. Just mount the head into the handle and screw it tight. The sponge and brush head can be adjusted for tightness through an internal hexagon wrench.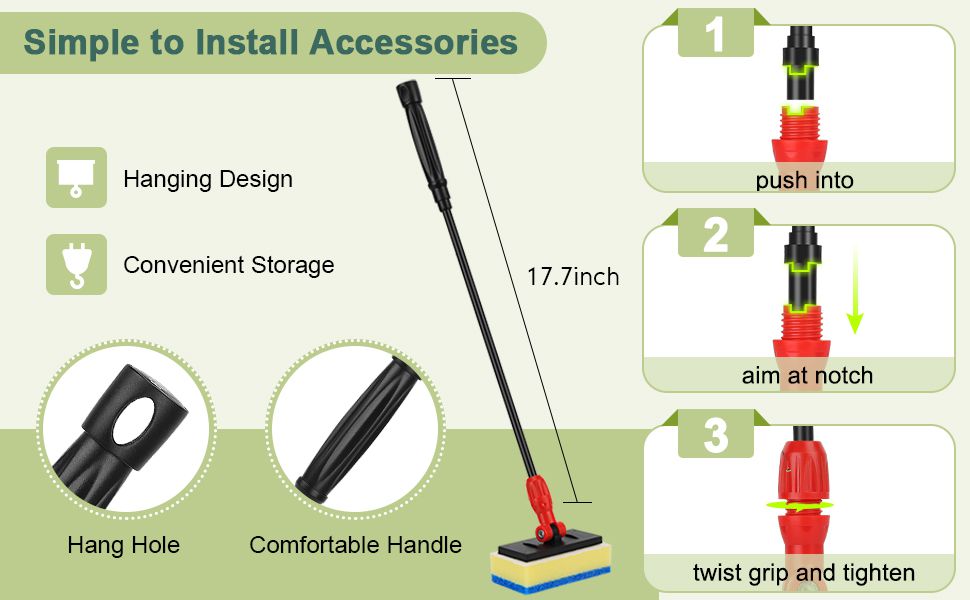 Directions for Use
Use Tips
1. The razor scraper can not be used on acrylic tanks
2. You can adjust the joint tightness with the Allen key
Specifications
Package Dimensions: 17.44 x 8.03 x 2.24 inches; 1.23 Pounds