Test Hygger Latest Product for Free
Why Do We Start This Free Product Testing Column?
Hi guys, thanks for stopping Hygger products. Do you want to try our latest products free of charge? In order to design the most cost-effective products for the fish hobbyists, we have started this column. Don't be hesitate to become the first batch of users of our latest products.
What Is the Latest Product That Is in Test?
The product under testing now is our 60 GPH aquarium filter & water changer which can also drain water like a small fountain to oxygenate the aquarium water.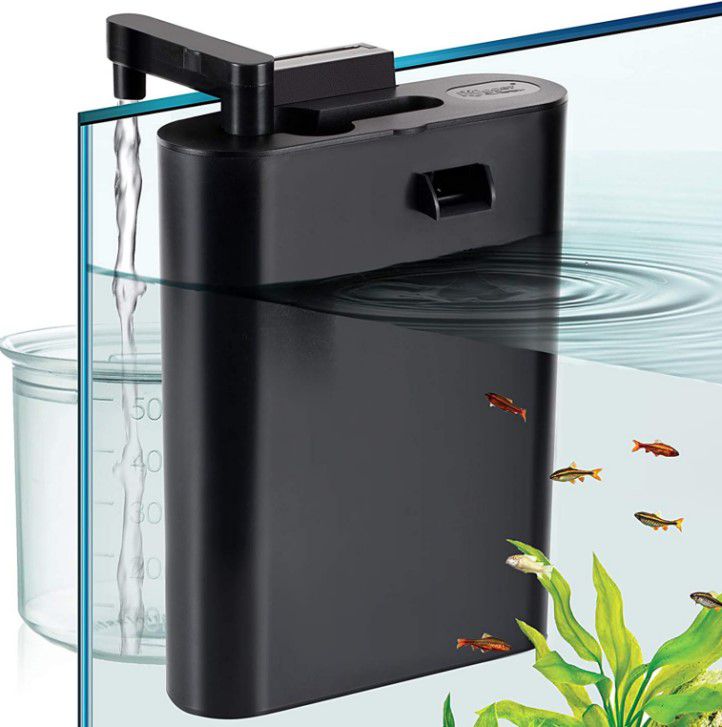 Key Features of This Aquarium Filter
It is a multifunctional aquarium filter which integrated water change function, landscaping, and oxygenation. Mechanical and biological filtration cycles more than 6 times per hour to maintain a clean aquatic environment.
Water Changing with Hygger Aquarium Filter
Our innovative water exchange design enables a quick and easy water change. Just rotate the outlet tap to change the water out of the tank through the included hose (47.2 inches long).
Please note that only part of the water in the tank can be replaced because Your fish needs to adapt the new water environment with original water in the tank. In this case, Hygger fish tank filter meets the scientific fish farming, so not all the water is pumped away.
Unique Design with Rotating Outlet Tap
In addition to the powerful filtering function that can bring you a clean and clear fish tank, its unique rotating outlet tap can meet your water change needs perfectly.
The additional small outlet tap plug create a small fountain effect in the fish tank, which also increases visual enjoyment while filtering.
How to Use Hygger Aquarium Filter
Step 1: Pull out the outlet tap.
Step 2: Remove the top cover.
Step 3: Take out the small accessories.
Step 4: Install back cover and outlet tube.
Step 5: Install the fountain accessory head on the water change tube.
Step 5: Plug in and done!
After plugging in, aquarium filter will be an effect similar to a small fountain. The flow of water will also increase dissolved oxygen in the aquarium.
Product Parameters of Hygger Aquarium Filter
Power: 3W
Voltage & Frequency: 110 V, 60 Hz
Max flow rate: 60 GPH
Suitable tank size: Smaller than 16 Gallons (0.15-0.28 inch thick)
Filter material:3 layers of filter plates (activated carbon) and sponge filter.
That's all for the product. Please kindly let us know if you would like to try the aquarium filter.
Write to [email protected]
We are going to ship the products to you free of charge.