Description
Water Changing
This aquarium siphon kit is a multi-function siphon kit. It can be used as a water changer. You can just simply squeeze the air pressure ball several times, and the water will flow out of the tanks automatically. It is an effortless aquarium siphon kit. The water inlet is designed with a filter basket to prevent tiny fish and water plants from being sucked in. The hygger aquarium siphon kit is suitable for 12-inch (depth) fish tanks.

Gravel Cleaning
The long hard tube stirs up fish waste and food scraps in the gravel, keeping the waste suspended and sucked out with the water, it also allows you to easily aim at the debris and suck it out. The flow clip allows you to control the flow rate, especially when the waste water bucket is almost full. A hose fixture clamp easily secures the hose to the bucket and frees your hands. It can also eradicate debris from those hard-to-reach corners of the fish tanks.
Coral/Fish Feeding
You can use the siphon kit as a coral feeder to feed liquid phytoplankton to corals or other aquatic pets.
As a coral feeder, it can be used in marine reef tanks to feed coral directly and is easy to control, it helps to keep your hands from getting wet. It also can be used in marine reef tanks to feed corals, reefs, anemones, lionfish, and so on, especially caring for timid fish.
The extension pipe allows slow fish feeding without wasting fish feed, it is an effective way to avoid contamination of water with excess fish feed.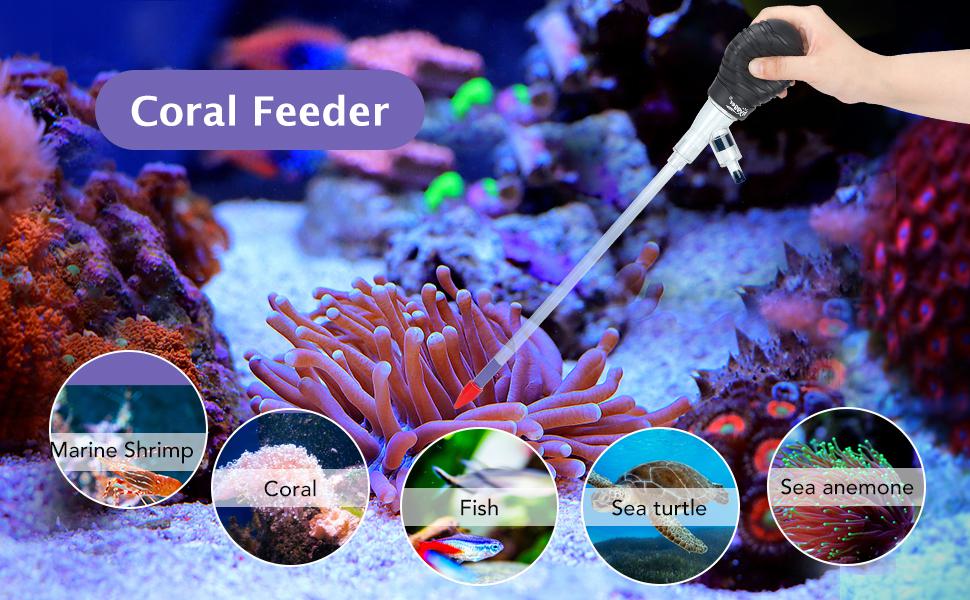 Aquarium Brush & Fish Net
The siphon kit includes a dedicated aquarium brush to help you clean the aquarium glass more efficiently. The fine nylon mesh fish net is carefully designed for fish safety and is a good tool for transferring fish during daily tank maintenance.
About the Aquarium Siphon Coral Feeder Kit
Material: PV and rubber
Size: 15.5-26 inches
Include accessories: 1 x air ball, 1 x handle, 1 x 6.5ft outlet pipe, 2 x 9.8in inlet pipe, 1 x inlet pipe connector, 1 x flow clip, 1 x hose fixture clamp

Directions for Use
Use Tips
hygger Aquarium Siphon Coral Feeder Kit Installation Steps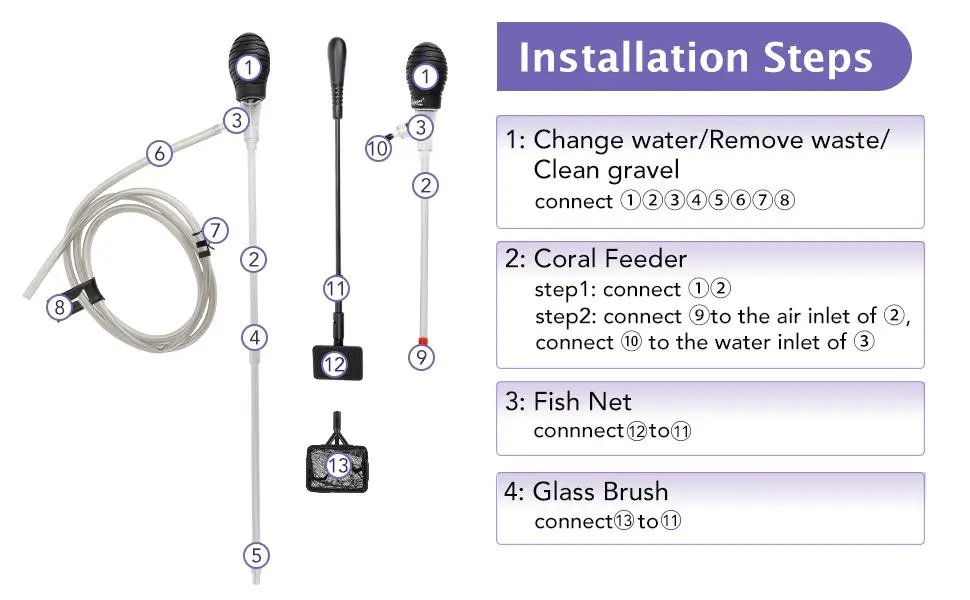 Specifications
Package Dimensions: 13.27 x 4.45 x 2.05 inches; 11.68 Ounces