Product Features
Adjustable
With an adjustable control knob, the airflow can be adjusted according to your own preferences, up to 160 GPH/255 GPH. The quiet air pump is used to vibrate the air bubbles to increase water contact with the air so that the water can dissolve the oxygen to increase the oxygen content in a fish tank.
Double air outlet
The bubbles are even, natural, and stable. It can be connected to a nano air stone, biochemical sponge filters, landscaping windmill rockery, aquarium air shells, and other aerobic landscaping equipment.
Super quiet air pump
This fish tank air pump is built with thickened ABS plastic which sealed machine noise; Stainless steel cover which locked motor sound; a Bearingless motor that works through magnetic bearings; Internal support feet whose motor does not touch the cover; 8 bottom rubber feet which reduces vibration; And noise reduction motor. All this equipment makes it an ultra-quiet air pump.
Stable and durable
The diaphragm is made of special synthetic rubber, which makes the air pump more durable. The bottom air intake filter blocks the impurity particles, which makes the air more pure and makes the air pump run normally.
Energy-saving
Created with the latest technology, the air pump works more effectively, thus saving more energy with its economical design.
Direction for Use
There are two methods to install the air pump.
Method 1: Place the air pump 25 cm higher than the surface of the water in order to avoid water backflow.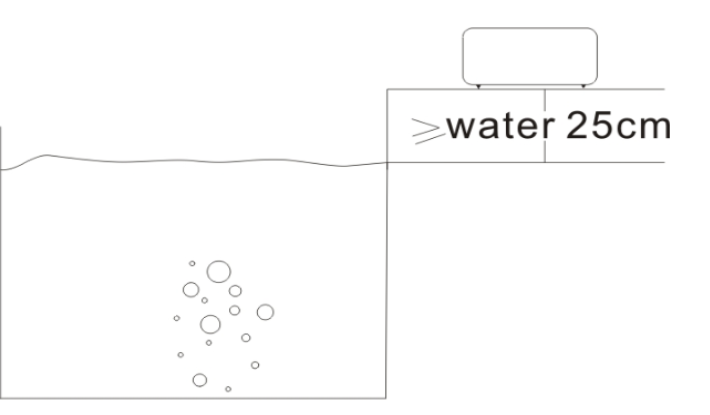 Method 2: Install the air pump underwater with check valves. Check the picture below to learn how to install the check valve.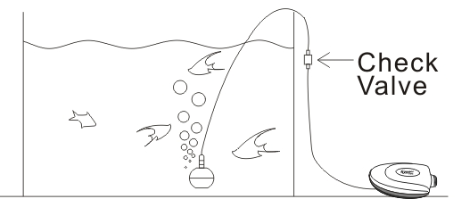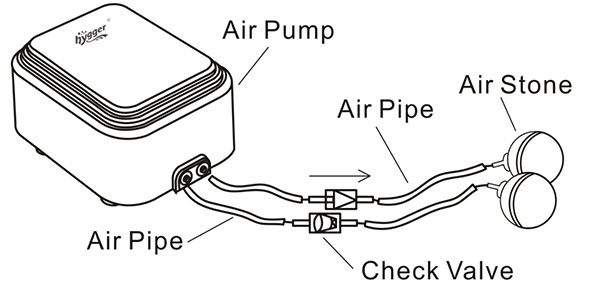 Adjust the air outlet flow:
If you want to increase the outlet flow, just rotate the knob clockwise. Of course, the counterclockwise rotation will reduce the outlet flow.
Specifications
Brand: hygger
Voltage (American): AC 100-120 V / 60 Hz
Voltage (Europe / Britain): AC 230 V / 50 Hz
Stomata: Double Vent
Power: 5 W/10 W
Air Flow: 160 GPH/255 GPH
Sound: < 30 dB
Pressure: 0.02 Mpa
Depth: 5 Feet
Cord Length: 6 Feet
Application: 5 W for up to 150 Gal/ 10 W for up to 600 Gal
Dimension: 4.7″x 3.9″x 3.5″