Product Features
hygger Aquarium Clip on Light is designed to provide efficient lighting for your fish and other inhabitants. With the bulbs lasting at least 30,000 hours and putting out 9000 K – 11000 K, these LEDs have the potential to enhance plant photosynthesis. It is a great bright light for small tanks up to 25 gallons.
Super bright LED clip on the fish tank light
Premium 30 LEDs produce a fantastic shimmer effect in your aquarium and emit enough bright light for a healthy growth environment for your fish and other inhabitants.
A 13 W LED clip on light is recommended for a 5-10 gallon tank; a 21 W LED light is recommended for an 11-25 gallon tank.
Two lighting modes
Mode 1: White and blue LED for daylight.
Mode 2: Blue LED for a nightlight.
Sleek design
Ultra-thin aluminum alloy and plastic shell ensure excellent heat dissipation, while the acrylic casing is splash resistant and safe to use. It fits most rim and rimless fish tanks with thicknesses up to 0.9 inches.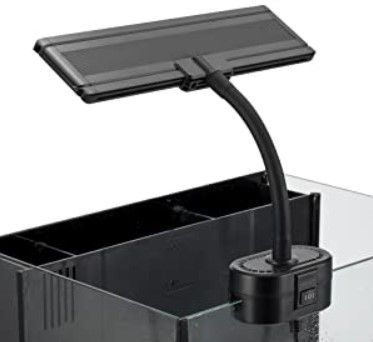 Flexible goose-neck clamp
Adjustable clamp lamp allows for flexibility in various angles and positions by gently turning the soft arm of the lamp.
Wide application
This hygger aquarium clip on light is ideal for freshwater or saltwater aquariums and aquatic plants.
Directions for Use
Just clamp the light at the rim of the fish tank, and you're good to go. Press the button to the left or the right to switch light mode.
Specifications
| | | | | | | |
| --- | --- | --- | --- | --- | --- | --- |
| Color | Shell Material | Shade Material | Product Dimensions | Light Source | Wattage | Item Weight |
| Blue, white | Aluminum, Plastic, Metal, Acrylic | Aluminum, Acrylic | 0.4″D x 9.7″W x 6.3″H | LED | 13W | 1.2 pounds |