Description
Day-Night Cycle Lighting Mode
Hygger LED plant light has a 24/7 mode that allows you to select a custom schedule with 24-hour automatic gradual of sunrise, sunlight, sunset, and night, providing aquariums with vivid and natural color performance. The LED grow light for plants allows you to set in 2-hour increments to choose the time of turn on and off, you can get a min of 2 hours or up to 24 hours of lighting time for planted aquariums.
3 Timer Mode
The LED lights have a built-in clock function of 3 timer options with 6, 10, and 12-hour for plants. Just turn on the light set to your desired color, and intensity and select a period for the aquarium plants.
Memory Function
The LED plant light will save your setting and repeat the same lighting schedule day by day. It can remember your last lighting brightness mode when there is a power outage and auto lighting by following the previous setting after the power is restored.
WRGB LED Light
The aquarium light provides 7 fixed single colors, and the color gradually will change cycling, it has 8 adjustable colors red, blue, green, orange, yellow, cyan, purple, and full spectrum.
Adjustable Brightness
The brightness of the lighting can be dimmed up and down at five different levels from 10% -25%-50%-75%- 100%, which easily brings out the lighting effect your plants need.
Ultra-bright & High CRI
This planted full spectrum light contains three-row 2835 LED bulbs and two-row 5054 WRGB bulbs with an illumination of 590–2700 lumens to adequately light the aquarium, which gives a visual display of vibrant colors for your fish and plants. It is an LED grow light for plants, ideal for aquatic plants and freshwater aquariums.
Upgrade Bracket Height
The hygger lights come with a couple of 1.6-inch tall extendable metal brackets, the PC lens provides a splash-resistant condition and increases the durability of the light, while the high-strength aluminum shell makes a good heat dissipation efficiency for the LEDs.
Directions for Use
Use Tips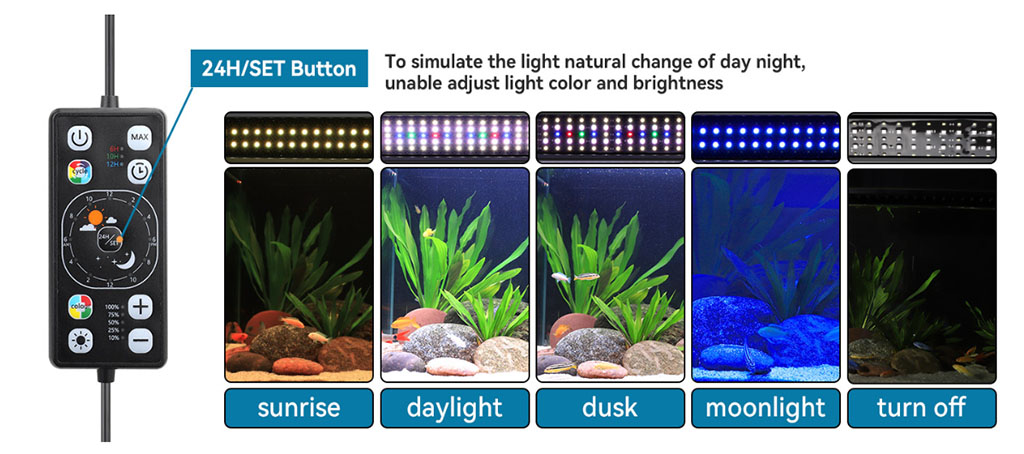 About the 24/7 lighting mode
Under the 24/7 mode, the light will auto-turn on and off at the same time every day, the light color and intensity are fixed and can not be changed.
Specifications