Description
Aquarium Chiller With Controller
hygger aquarium chiller is a quiet fish tank cooling fan with a 7-wing fan wheel that pushes large air volume at the outlet, it works energy saving with low noise.
The controller adjusts the timer speed and speed setting freely. The chiller has an automatic switch so it is no need to switch the power supply every day, it meets your fish tank cooling needs completely. The water chiller is suitable for freshwater and saltwater aquariums less than 31.5 inches long and 0.45 inches(1.1 cm) thick.
Combined-Use Cooling Fan
Only one controller and power adapter can control 2 or 3 fans at the same time, the angle of the fan head is adjustable, and the 3-pin splitter is 39.37 inches long enough for medium-sized fish tanks. It is convenient and not take up more space and is not messy with 3 fan heads.
Auto On/Off Chillers
Hygger aquarium chiller has its own timer setting, which can be selected from 5 time periods – 0.5H/1H/2H/4H/12H through an external controller.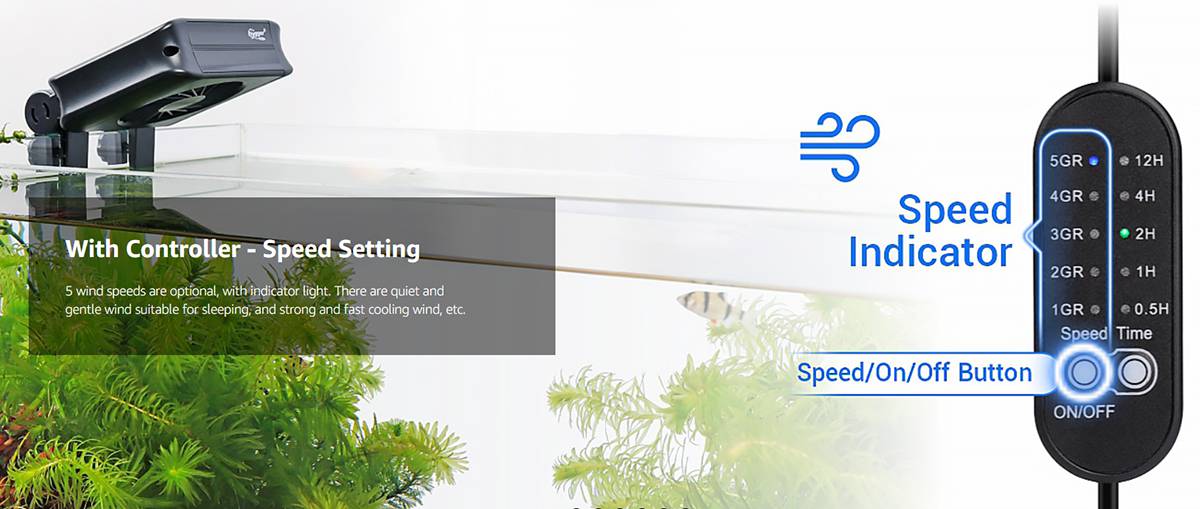 It is no need to worry about forgetting to turn it off after the temp cools down at night, or when the refrigeration equipment is turned on, the fan can be stopped automatically. It is unnecessary to turn it off manually every time. The timer function can perfectly solve this problem.
5 Levels Of Wind
The hygger cooling fan has 5 levels of wind speed with indicator light, it can be used according to different environmental scenarios. There are quiet and gentle winds suitable for sleeping, strong and fast cooling winds, etc.
In summer, if there is no air conditioner and other cooling equipment, you can use the 5th gear, and use 1/2/3/4 gear wind in spring/fall/winter.
Easy to Use
The angle of each independent fan head can be adjusted freely, you can blow wherever you want. Hygger's unique 3-pin de-concentrator cord design can satisfy fan heads placed on 1–3 tanks and controlled by one controller and power cord.
There is a double switch design on the side of the cooling fan, so you can turn off the power at any time. It is no need to unplug the power.


High-quality from hygger
In addition to the unique functional creation (timer/wind speed setting) of the cooling fan, its own quality is also worthy of recognition. Whatever the sturdy and beautiful ABS plastic shell, the all-copper core motor, and the FDB bearings, they bring a big comfortable wind feeling while the working sound is not disturbing.
Directions for Use
1. Available in all seasons: the aquarium chiller fan can be used in seasons other than the hot summer, it can also be used in not ventilated basements and garages especially as well as coral tanks.
2. The UL safety-certified DC power supply is guaranteed to be used.
3. It can be hung on the fish tank less than 0.45 inches (1.1CM) safe and stable by the strong plastic screws.
Use Tips


Range of use
1. Hot summer
2. High-end aquarium chillers that are expensive and power-hungry.
3. Aquarium lights or other equipment with motors in the fish tank generate heat all the time.
4. Reef tanks require specific temperatures.
5. Keep your axolotls and shrimp tank cool.
6. Perennial not ventilated basements and garages.
7. Keep the aquarium tank cool in the winter, if the heat running in your house is too warm.
Specifications