Description
Intelligent APP Fish Feeder
hygger intelligent fish feeder allows you to feed the fish wherever you are with an easy-to-use app. After simple setup and installation, you don't miss a feeding due to a holiday or busy weekend. You can set unlimited times by app to feed regularly by week or day, once set, the fish feeder will automatically cycle and there is no need to reset it for the next time. Perfect for different types of fish, aquariums, and even ponds.
It is also an excellent gift for pet owners who have an active lifestyle, love traveling, and more.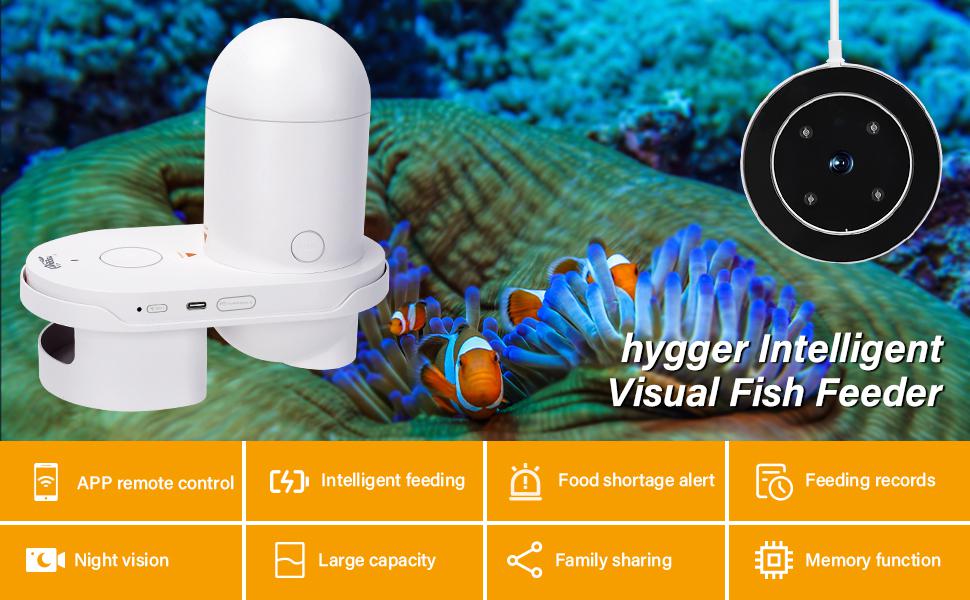 Customized Feeding Time/Amount
This fish feeder offers multiple timer and quantity settings. It will feed on time and in quantity and leave a feeding record in the app. The feeder's low food alert will remind you to replenish food in case you forget. You can click on "feed" in the app to feed remotely and instantly.
New Visualization and Sharing
The fish feeder is visual, it is equipped with a 2K HD camera which allows you to monitor the aquarium remotely. You can take photos and record videos through the app, and share them with your family.
You can even share the connection with your family and friends through the app's share device function, it supports a total of 5 devices to simultaneously connect the fish feeder, but only one device can control and set the feeder.
Manual or Automatic
hygger fish feeder offers both manual and automatic feeding options, you can remotely feed your fish with a single feed in the app, and set up automatic timed feeds. If you want to try manual feeding, just press the manual button on top of the feeder to enjoy the manual feeding fun.
Keeping Fish Food Fresh
hygger intelligent fish feeder adopts a moisture-proof design to ensure the freshness of food without getting wet or clogged. The double-sealed compartments and dedicated drying space keep the fish food fresh and moisture-proof.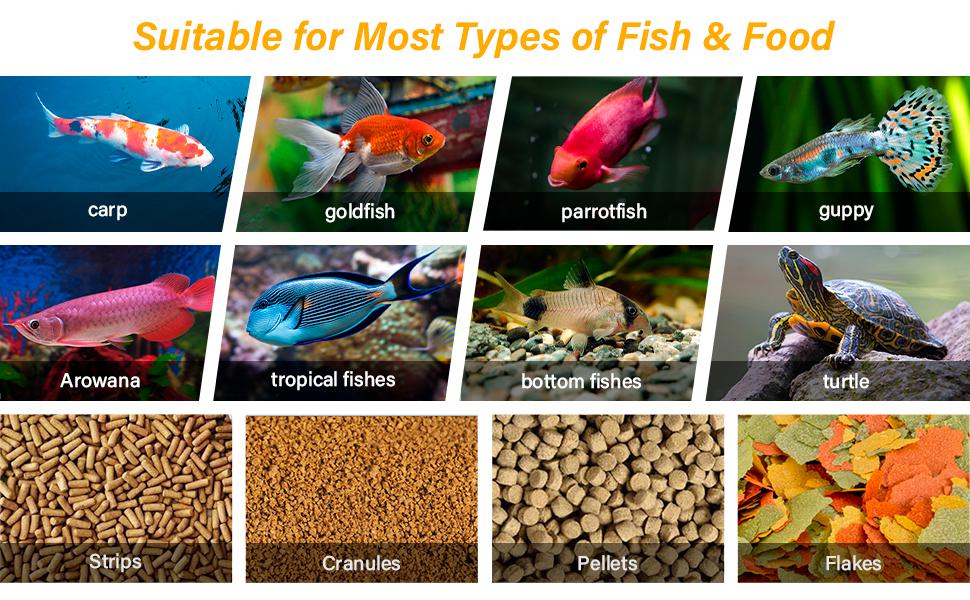 The 230ml large-capacity fish food container is suitable for a variety of fish feeds such as pellets, granules, and powders. Just open the top basket of the feeder to add fish food without removing it. The feeder can be used to feed aquarium fish, shrimp, turtles, and other tropical animals.
Two Fixed & Power Supply Methods
You can use the adjustable clips to fix the feeder to the edge of the tank or use the included stickers to attach it to the tank lid. It is suitable for most square fish tanks. hygger Wi-Fi fish feeder uses a USB cable to connect home electricity (5ft USB cable included) and can be powered by a power bank. It comes with a 12-month warranty.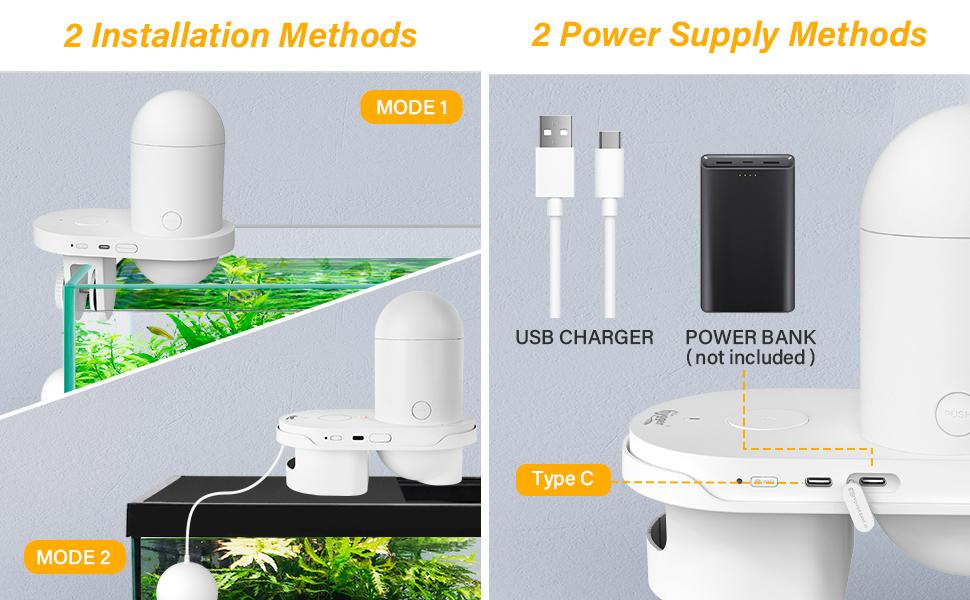 Accurate Control Volume
You can achieve an accurate and personalized feeding plan based on the size and quantity of your fish, accurate to 0.1g can reduce unnecessary food loss and waste. It is easy to increase or decrease the feeding amount, providing precise portions for your beloved fish and ensuring their health to prevent the water quality from deteriorating.
Food Shortage Reminder
When there is no food in the fish feeder, the red light will flash, and the APP will pop out a shortage reminder. No need to worry about forgetting to replenish food.
Just open the top basket of the fish feeder and add fish food without removing or disassembling it.
Directions for Use
Use Tips
How to set the feeding time and date?
For example, you can choose to feed every Monday, Wednesday, or Friday at 8 a.m. Or choose to feed at 9 a.m. every day. Even if you are active or on vacation every day, there is no need to worry about your fish.
Specifications