Hey, dear friends, Christmas is coming soon. Are you ready? Do you want to set up a Christmas-themed tank? But, how to create a fish tank for Christmas? So here, this article is going to share some ideas for making a Christmas fish tank. Without wasting much time, let's dive in.
Content Table
What can be put in a fish tank as a decoration
Decorating a fish tank not only makes it more appealing but also improves its ornamental value. On the other hand, decorating your fish tank in festivals with some special decorations can increase the festive atmosphere. Christmas festival, for example. But can everything be decorations for aquariums? Exactly, no! And this segment will cover some feasible Christmas tank decorations, and some dos and don'ts.
Options for Christmas fish tank decorations
Aquarium Christmas Figurine
Aquarium Christmas figurines are available in pet stores and are easy to install. However, you should ensure that the Christmas figurines are made of aquarium-safe material. Otherwise, they may be detrimental to fish, aquatic plants, or other aquarium creatures.
Aquarium Christmas Sticker
Aquarium Christmas stickers can be stuck on the aquarium background or outside the glass. Also, they can be removed easily.
Red is one feature of Christmas, and you can get the aquarium red gravel from pet stores. Nevertheless, do not forget to rinse the gravel before adding them to your aquarium.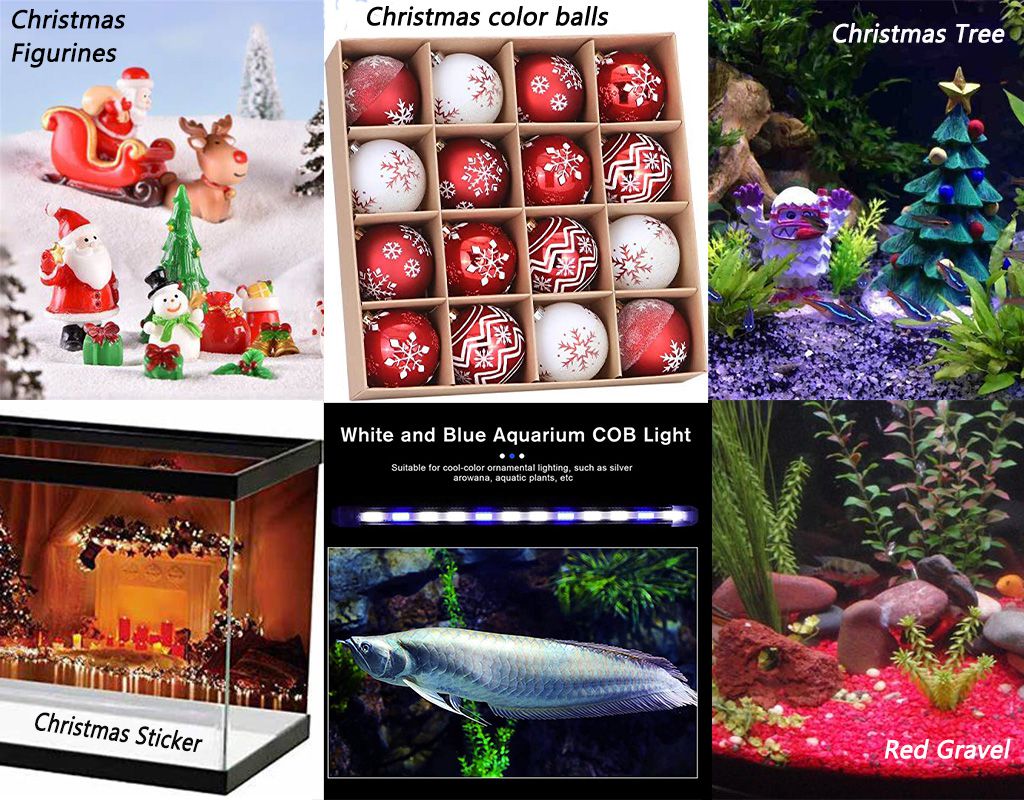 Actually, the Christmas tree is a signal of the Christmas festival. But you should make sure that the tree is made of fish-friendly and aquarium-safe material.
The Christmas color balls are available in stores. You can hang them on Christmas trees, place them in the aquarium, or just hang them outside your fish tank. The color balls add colors to your aquarium.
Submersible ornamental light
Bright light makes your fish tank and water pets more energetic. A submersible COB LED light is an ideal one. The COB LED light has two types to choose from, RGB light and Blue white light. You can choose the RGB light according to your tank inhabitants' needs and the whole aquarium atmosphere. With blue and white colors, the light is suitable for cool-color ornamental lightings, such as silver Arowana, aquatic plants, and others.
Dos and don'ts
First of all, most decorations are submersed in aquarium water, hence, the decorations should not contain any chemicals that are damaging to fish and other creatures in the aquarium. Also, all decorations you choose should be made of fish-safe and aquarium-safe material. Otherwise, your fish, aquatic plants, and other creatures may face injury or death. For instance, it is better to think twice if you want to add decorations made of concrete and copper.
Since concrete would release harmful chemicals to the aquarium, while copper is toxic to fish. Besides that, decorations with sharp edges would cause damage to fish. Thus, you should avoid them. By the way, in addition to all the Christmas decorations mentioned above, here are some other alternatives, including sand, gravel, aquarium soil, sunken ships, rocks, stones, tree trunk decor, corals, and another fish tank decor.
Decorate a fish tank for Christmas
Dear friends, it is time to shine your creativity on how to decorate a fish tank for Christmas. If you do not have any ideas now, just continue reading. In this part, we will list some Christmas fish tank ideas about decorating.
Create a mini Christmas village in an aquarium
Exactly, you should know the aquarium size, and then you can guess the decoration quantity. Next, prepare some decorations, such as an aquarium-safe house, park benches, and some Christmas figurines. Finally, placed them in your aquarium in turn.

Christmas figurines & stickers
Additionally, decorating your fish tank with Christmas figurines and stickers is feasible. There are various stickers for you to choose from. For example, a background sticker with the words "MERRY CHRISTMAS". Actually, it is easier than creating a mini Christmas village.
Christmas tree & red gravel
Aside from that, Christmas trees and red gravel are great choices. Moreover, it is good to hang some Christmas tree balls on the Christmas tree. Furthermore, you can add some color balls inside the fish tank or just hang them outside the aquarium.
In short, just decorate your fish tank according to its size and capacity. As for large tanks and tanks with low fish density, creating a mini Christmas village is an excellent option. But for small tanks, it is best to choose some small decoration gadgets, like stickers, and Christmas color balls. Besides, you should avoid too many decorations in your fish tank. Otherwise, you may feel a little chaotic and giddy.
For more Christmas fish tank ideas, welcome to share in the comment!
After reading, are you interested in making a Christmas fish tank? If so, why not have a try? More decoration ideas, welcome to share with us in the comment. Finally, May the spirit of Christmas bring you and your family hope, happiness, and love, and Merry Christmas. Thanks for your reading.