Dear friends, are you ready? Time to enjoy Hygger's Amazon Sales for Hygger 998 aquarium heater. You should enter the coupon code "40hygger998" to get a 40 percent discount. But, you can save up to 50 percent in total.
Product Name: Hygger 998 ETL Certification Aquarium Heater
Available Size: 50W 100W 200W 300W
Reg. Price: $13.99-$21.99
Final Price: $6.99-$10.99
Start Date: 2022-11-02 06:00 AM PDT
End Date: 2022-11-30 23:59 PM PST
It is time to add the 50% discount on your shopping cart now, please go to:
Hygger ETL Certification Aquarium Heater, 50W/100W/200W/300W Submersible Fish Tank Thermostat Heater with Adjust Knob Suction Cup for Small Betta Coral Saltwater and Freshwater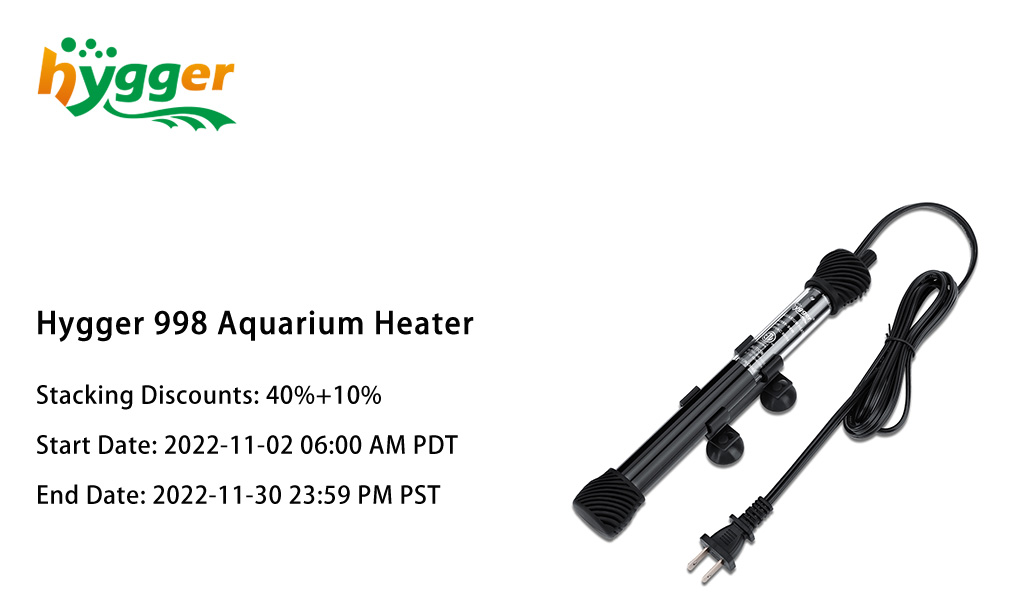 This is a submersible aquarium heater with an adjusting knob suction cup for coral saltwater and freshwater, it is designed especially for a 15-80 gallons fish tank. Its quartz glass construction makes it shatter-proof and explosion-proof.
ETL Certification: It is certificated by ETL with a quality advantage. The ETL mark indicates that the product has passed the US NRTL certification and/or Canada SCC accreditation. ETL mark has the same effect as UL or CSA mark.
Automatic Stop & Restart: You can set the temperature from 68℉-93℉ to maintain constant and stable temperatures for fresh or marine water, and the exactness is within 2 degrees Fahrenheit.
With Built-in Thermometer: The aquarium heater has a built-in thermometer to detect the water temperature.
Durable Quartz Glass: It can be used in freshwater and saltwater aquariums.
Fully Submersible: when working, it is easy to hide in the fish tank.
Over Heat Protection: automatically shut off once the water temperature is over 93℉.
Here is more Aquarium Heater for you to choose from Hygger.
To get more Hygger product coupons, please go to Hygger special events and coupons or go Need Help to express your requirements.
If you want to get the latest news and updates about Hygger products, please subscribe to the official website, or follow us on YouTube, Facebook, Twitter, and Instagram.
Contact info
Email: [email protected]
WhatsApp:+12028664104
official website: www.hygger-online.com