Product Features
Rapid Heat Accumulation
hygger ultra short aquarium quartz heater's heating rod is made of explosion-proof quartz glass material and a high-temperature resistant nickel-chromium heating wire with silicon carbide heat conduction. It is anti-corrosion, non-leakage, non-conductive, explosion-proof, and makes water heating faster and safer, the heater is more durable and has longer-lasting heating.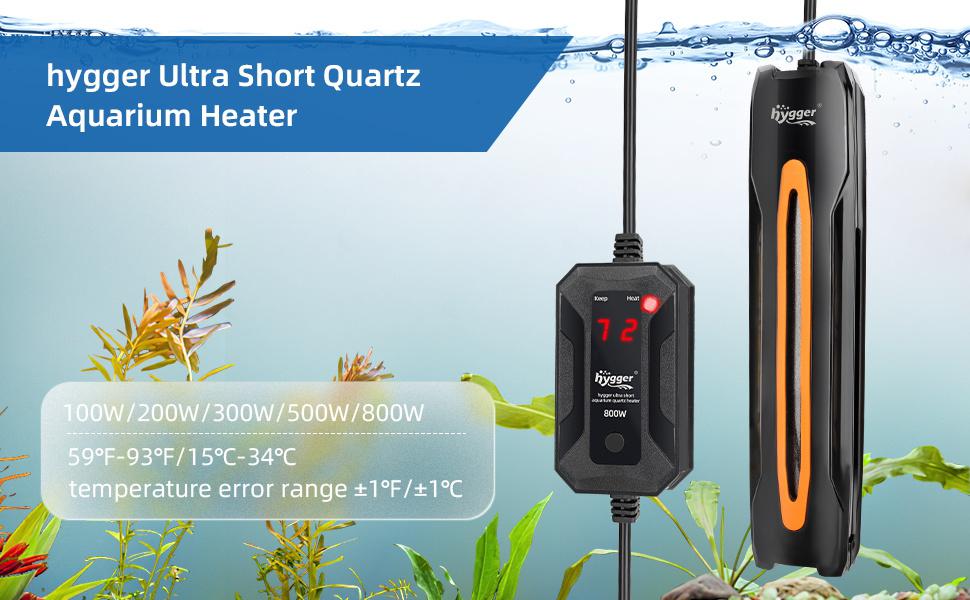 External Smart HD Controller
The external thermostat controller is easy and safe to use without getting your hands wet. Each press of the heater will change the set temperature by 1℉(1℃).
Press the button on the flashing LED digital display to adjust preset temperatures and more functions for flagging Low/High temperature and out-of-water warning signs.
Safety Quartz Heater
The high-quality ABS protective cover is high-temperature and prevents the aquatic pets from directly touching the heating element during swimming. The dual suction cupholders plus a spare suction cup hold the quartz heating rod securely in place.
Safety Guarantee
This aquarium quartz heater built-in two temperature probes, when the water heater is out of water or over temperature, it will automatically stop heating and send out a warning signal L1 or HH. The heating rod will restart after it is completely submerged in water or cooled.
Intelligent Thermostat
When the actual temp is lower than the set temp by 1.5 °F/1.5 °C, the indicator light will turn red, the quartz heater will heat up to the set temp at full power, and the indicator light will turn a blue color, then stop heating. The temperature range is from 59℉ to 93℉.
Full Submersible Heater
The aquarium heater is suitable for 5-160 Gal freshwater and saltwater tanks. The memory function remembers the temperature you set when the power fails. Three suction cup brackets can stably fix the heater in every corner of the fish tank.
Directions for Use
Use Tips
1. Press the button for 5 seconds to switch between Celsius and Fahrenheit.
2. Please rotate 90 degrees to install the suction cup.
Specifications