Description
Overheating & Out of Water Protection
The hygger submersible heater will automatically cut off the power and stop heating when the water temperature exceeds 94 °F, it will display an error code and sound an alarm until the water temperature is below 94 °F. When the tank water is lower than the minimum water level, the heater will auto-shutoff, and it will restart until completely immersed in the water. The multiple heating protection protects the inhabitants in aquariums.
Digital LED Controller
hygger 043 quartz heater temperature adjustable range is 59℉-93℉ and the accuracy is ±1 °F. You can use the included bracket to mount the controller on the tank edge and adjust the temperature without reaching into the water. The LED controller shows the current water temperature, preset temperature, working power, and more warning signs of Low/Hi temperature/ Auto shut off. This quartz aquarium heater is very easy to operate.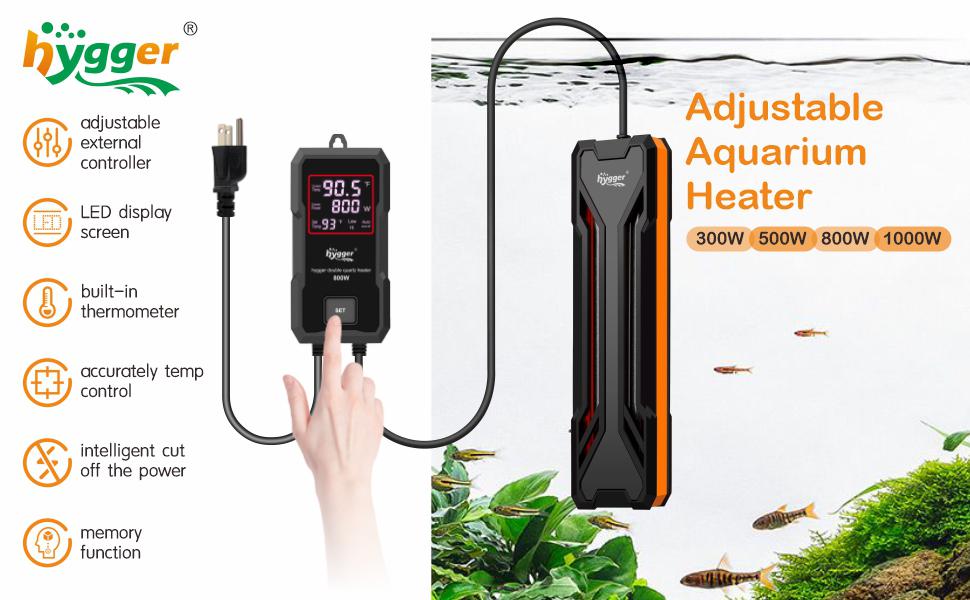 Large LED Display
With the quartz heater's large LED digital display, you can easily check the current water temperature, current working power, and alarms. Just press the SET button once, and you can set the temperature from 59-93, relative to overheating protection, the "Low" light will flash when the water temperature is below 59 °F.
More Accurate Heating Temperature
hygger upgraded the heater with the Smart chip and made the temperature accurate to 1 °F, the temperature control accuracy even is ±0.1 °F. The heating will stop when the water temperature reaches the set temperature.
Efficient and Explosion-proof
The aquarium heater is made of explosion-proof quartz glass and high-temperature resistant nickel-chromium heating wire. It works with faster water heating, is safer, and longer-lasting. The heater guard is made of high-quality PC plastic to protect tank inhabitants from burns.
Anti-day Function
The quartz heat will auto turn off when it is out of water 5 cm, the thermostat will sound an alarm and the "auto shut off" will flash, and it will resume functioning upon return.
Complete Accessories and Warranty
This aquarium heater comes with the necessary accessories and offers a 12-month warranty.
Directions for Use
Error code: HH-high temp; LL-low temp.
Use Tips
How to install hygger 043 Submersible Double Quartz Heater?


Specifications