Description
Auto shut off
hygger 011 aquarium heater auto shut-off when the water level dips too low or is not fully submerged with beeping alarm and error code, resumes when fully submerged. Equipped with three overload sensors to prevent burnout. Beeping alert system when water temp over 96.8°F.
PID Variable Frequency Drive Technology saves more energy
The smart heater automatically enters frequency mode with low power heating to save energy when the water temperature is 0.5°F -1°F lower than the set temp. So it is also an excellent energy-saver with low power start-up conserving energy and saving energy on lower electrical bills. It will automatically increase or decrease frequency as needed by smart PID Variable Frequency Drive Technology.
Digital display water real-time temperature
The smart aquarium heater LCD shows real-time water temperature and power clearly on the heating rod simultaneously at a glance. The indicator light will be red when heating, and no light when the proper temperature has been reached.
Overheating Protection
Loaded with 3 temp probe sensors to prevent overheating. Mixed with a premium high-temperature-resistant plastic guard, it prevents fish and other aquatic creatures from contact with the heating element.
Explosion-proof
011 aquarium heater is constructed of heavy-duty and explosion-proof, double sealed by a plastic guard which prevents fish from coming into contact with the heating element. An 800-watt aquarium heater is recommended for up to 180-gallon freshwater aquariums.
Stay firmly
Keep the smart heater in place with a triple suction cup bracket, and stay firmly in a fish tank.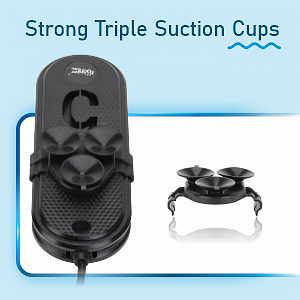 Easy to set the water temp
With built-in external temp control, easy to set the water temperature and avoid your hands getting wet. Just Keeps pressing the button, it cycles through 70°F – 94°F(20°C-34°C). Comes with cord length 4.9FT(1.5M) + 3.9FT(1.2M)
Easy to clean
A detachable plastic guard allows you to clean the heater rod regularly in case the water scale is clogged up.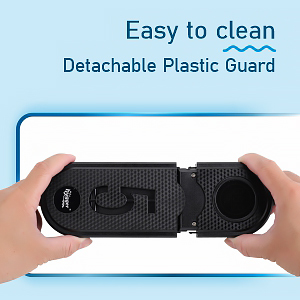 Directions for Use
1. Make sure the heater rod is fully submerged.
2. As gravel doesn't conduct heat well, it's important to keep the heater off the gravel though.
3. Always unplug the smart heater for 15mins to cool down before a water change or cleaning a fish tank
4. Press the 'SET' button to set the temperature, press it one time can change 1°F, after setting it for 3 seconds, it will automatically exit the temperature setting.
Use Tips:
1. Just keep pushing the hand button on external temperature control, it will cycle through all the set temperatures, adjustable temp setting between 70°F to 94°F in 1-degree increments.
2. When used for a prolonged period with dirt adhered to the heating element, be aware that it may cause failure due to the inability to control the temperature correctly.
Specifications