Product Features
Remote Control with LCD
hygger remote control light makes it easy to set the program by the 19-key buttons on the remote. It can easily adjust the working light mode, color, brightness, and time and turn on/off within a range of 32 feet. The remote control distance is large enough (within 32 feet range) for you to adjust the brightness and color temperature and control switch of the standing lamp without leaving the warm sofa or bed. And display shows on the screen simultaneously, letting you conveniently read without touching the light.
120-degree Wide Beam Angel
Paired with unique purple LED bulbs, this remote control aquarium light fixture has built-in pieces of effective growing LED bulbs, which consist of purple LEDs/ RGB LEDs/ white LEDs, integrated for a super bright lighting effect while providing a 120-degree wide beam angle to illuminate the dark corners of the tank.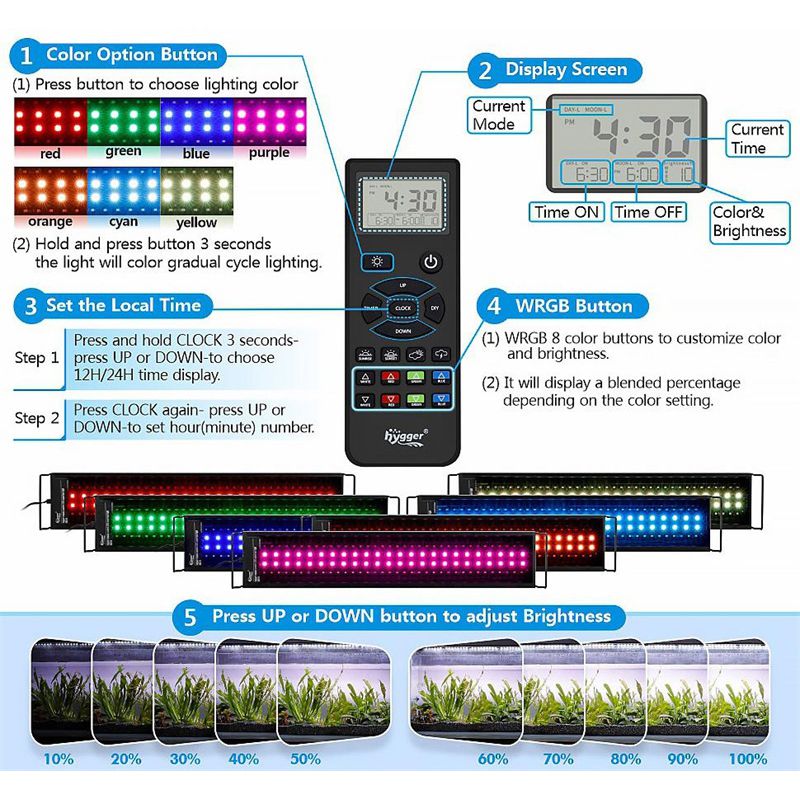 Four Rows of LED Bulbs
The LED light is evenly distributed over four rows of LED bulbs. As a full spectrum light, it is paired with 2835 white LED bulbs, 5054 RGB LED bulbs, and unique purple LED bulbs that give plant growth needs. It is a professional light for aquatic plant growth and freshwater tanks.
Vary Customizable Options
hygger light provides 4 modes for various customizable options.
Default mode: simulates a 24-hour day's natural spectrum, providing a gradual sunrise, bright daylight, gentle sunset, and 4 hours of moonlight then off for the night.
Sunrise – The light starts with gradient orange lights and slowly ramps up to 100% full spectrum. Duration 30 minutes.
Sunset – It starts 100% full spectrum and slowly ramps to orange lights until the light is off. Duration 30 minutes.
DIY mode: 24 hours divided into 8 phases, you can custom time, color, and brightness at each phase.
Weather mode: you can choose sunrise, sunset, cloudy, and lightning effects to add fun to your tank.
Cloudy -It will turn on with a dim bluish-white light spectrum to simulate a cloud. Unlimited time, need to close manually.
Lightning – The lightning flashes are set to last for 2 seconds before returning to dark clouds, then a reciprocating cycle. The lighting effects are only for your enjoyment.

Day & moon light mode: full spectrum during the day+blue light at night, you can also create your own color bends.
Full Spectrum Lighting
The LED light can be set to red, green, blue, purple, orange, cyan, and yellow 7 spectrum colors (emit all wavelengths from 380 nm to 680 nm) and 10 level brightness dimmable options freely adjust lighting intensity to meet different stages of plant lighting needs.
Memory Function
The remote control light stays at your last setting when turned on again, you do not need to reset it.
High-quality LED Light
The high-quality aluminum shell improves heat dissipation capability and avoids overheating to ensure the LED light runs stable. And the high light transmission PC lamp cover prevents water from splashing and prolongs the life of the lamp beads.
Extendable Metal Brackets
hygger 016 LED light comes with two bracket legs to extend for aquariums. It is able to slide outward the extendable metal brackets to adjust to a variety of tanks.
Directions for Use
How to Turn on the Day & Moon Light Default Program?
1. Press the CLOCK button to set the current local time after being out of the box.
2. If the DIY mode is running, it needs to turn off the DIY mode, and it will enter the DAY & MOON Light mode.
How to Program Custom DAY & MOON Light Mode?
1. Press and hold the TIMER button for 3 seconds until "DAY-L ON" blinks—then press the UP/DOWN button to set the turn-on time – press the TIMER button again to save.
2. Press the WRGB button to set light color and brightness – press the TIMER button again to save.
3. Press the UP/DOWN button to set the turn-off time – press the TIMER button again to save.
4. Repeat the above operation to finish the "MOON-L" mode.
Use Tips
The Remote is not waterproof.
1. In Day & Moon Light mode divided into 2 light time phases, it can set each individual time range and customize color and brightness.
At On Time, the light will slowly ramp up over 15 minutes.
At Off time, the light will slowly ramp down over 15 minutes.
2. In DIY mode divided into 8 light time phases, L1~L8 can set each individual time range and customize color and brightness.
Each phase will spend 15 minutes fading into the next phase.
Specifications