Description
Triple Filtration System
hygger canister filter is an internal power filter for a small aquarium with a 3-stage filtration system. It is composed of an activated carbon cartridge, filter sponge, and ceramic rings. It can effectively filter fish tank particles and debris, absorbs odors, and for beneficial bacteria to grow to keep water crystal and the inhabitants healthy and happy.
Energy-saving aquarium canister filter
It is using a low-noise 6.5-watt pump, a max flow rate of up to 135 GPH, and water flow can be adjusted through the top flow knob. The output arm can be moved from side to side to adjust water flow directions, thus creating a nice water flow wherever it is required.
Great for freshwater and saltwater aquariums
Mounts quickly use the included suction cups and can be placed vertically making it easy to place and hide in the tank. It also can be easily mounted horizontally and converted to function as a low water level tank filter, giving you crystal clear water.
Easy to disassemble and clean
This aquarium filter is effortless to set up, small, can sit in shallow water, it can be used on 5-30 gallon fish tanks. Take apart to rinse clean and has a reusable media, making regular maintenance a snap and very easy.
Multi-function filtration system
It has an adjustable & directional water flow output and a spray bar option that provides distributes water evenly through filtration and works well as a powerhead for water circulation. The round spout arm has a connector where you can connect air tubing to aid aeration.
Meet different filtering needs
Three filtration accessories can meet different aquarium filter requirements.
1. Spray bar filtration distributes a gentle flow of water to increase oxygen which has a trickle water sound.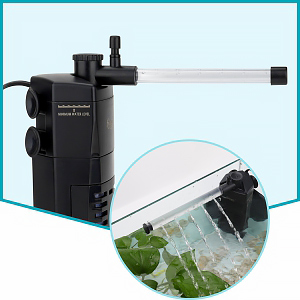 2. Round nozzle filtration has strong water flow and enhances circulation, you can submerge the outlet to make it quiet.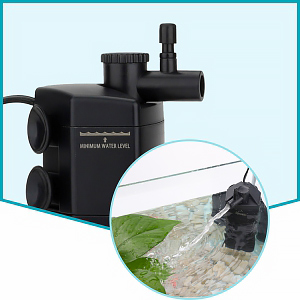 3. Flat nozzle filtration is a steady wide gentle stream.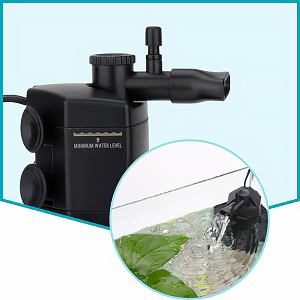 Freely switched filtration modes
1. Filtration and clear water: provides 2 types of water outlets, a spray bar outlet and a flat nozzle outlet that enable ample water movement and aerate tank water.
2. Connect an air hose to the outside, which works great to add oxygen to the water and makes a fantastic wave circulatory effect for the water.
3. Sprays water to the surface to help increase oxygen and agitate the surface in the aquarium.
Saving space by triangle design
hygger internal aquarium canister filter has a compact size of 2.16 x 1.96 x 8.26 inches, which fits perfectly on placing the filter in the tank corner, 4 suction cups make it stay stable and easy to hide behind aquarium plants or decorations either vertically or horizontally.
Directions for Use
1. Install an air hose for efficient oxygenation
Step 1: Remove the cap of the air inlet and connect the air tube, it makes it effortless to add additional aeration and provide enough air into the tank, adding vitality to the fish.
Step 2: Adjust the number of air bubbles by rotating the air hose head.
2. Adjust water flow output and direction
Step: Rotate the knob on the top to adjust the water flow.
Use Tips:
The filter position is not lower than the minimum water level or can be fully submerged in water.
Specifications