Description
Perfect for Freshwater & Saltwater Aquariums
hygger intelligent quartz heater has quartz glass dual heater tubes for coral reef tanks, the protective guard can protect fish and other aquatic pets from scalding and punching. It helps to create perfect water conditions for them to thrive in aquariums from 40 gallons to 317 gallons. As a perfect saltwater aquarium heater, it can also be used in freshwater aquariums. Just choose the right heater according to your tank size.
Multi-Functional Controller
The heater controller shows both real-time water temperature and set temperature which is available in either Celsius or Fahrenheit. The red indicator light shows the heating and the green light means at the set temperature, and the audio alert reminds you something is wrong. It is easy to set the temperature without getting your hands wet.
Safety Auto Audio Alarm
If the tank water level drops too low and the heater sensor exposes to the air, the hygger intelligent heater will auto shut off with the controller flashing the "E1" error code and beeping an alert to prevent overheating.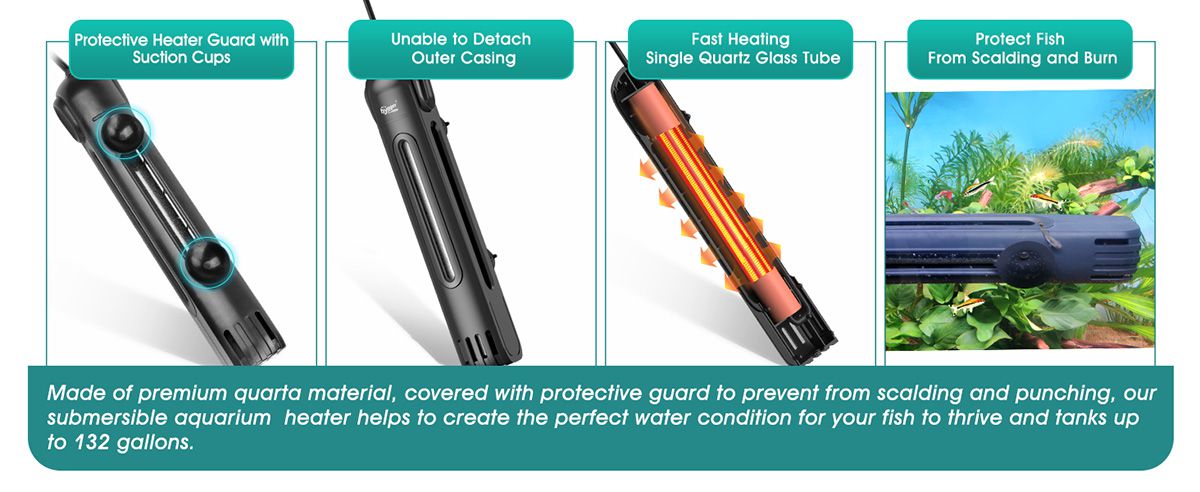 High & Low-Temperature Alert
When the water temp is lower than 59 F, the heater keeps on heating, the controller flashing the real-time temperature and buzz alarm. When the water temperature is lower than 59 °F or higher than 93 °F, the heater will auto-shutoff and buzz the alarm. It will reset when the water temperature is back to the control temperature range between 59 °F – 93 °F. You can set the button to remove the alarm.
Speedy Heating-by Dual Heater Tubes
The saltwater heater speed up the heating with dual heater tubes. It is made of premium corrosion-resistant and shatter-proof quartz glass, suitable for freshwater and marine water aquariums; the detachable safety protective guard protects fish and other live stocks from burning.
Directions for Use

Use Tips
1. Heater rod must be fully submerged
2. Make sure that the heater doesn't touch sand or gravel on the tank bottom
3. To insure its better performance, please keep water circulation
4. Take apart the protective guard and clean the heater rod regularly
5. Unplug the heater before the water change or cleaning and wait for 15 minutes to cool down
Specifications