Product Features
Ultra-quiet Filter Pump
hygger Fish Tank Filter Pump built-in 6-watt water pump with activated carbon filter cotton which can better filter water. The ultra-quiet motor and internal pump multi-silent noise reduction processing make it quieter than external aquarium filters, 6-leaf wear-resistant ceramic shaft core is high-quality tiles, strong power, and no rust, offering your fish a quiet and comfortable tank.
4-in-1 Multi-function Filter
4 functions include water purification, filtered water, water circulation increasing oxygen, and pumping water. Turns green water to clear in 3 to 7 days. High and low natural rainwater oxygenation can also improve aquarium ornamental. In addition to physical filtration, the filter pump has activated carbon filter cotton in it, the mesh filter cotton can also help the fish tank quickly form a nitrification system.
New Timer Function
The fish tank filter pump built-in 8-watt U-V bulb with a timer. You can select 4 hours, 8 hours, or 24 hours of timing for longer service life. Purify green water and create a healthy and clean living environment for your underwater pets.
High-Efficiency U-V Light
The filter pump comes with an external U-V light timer controller. It has quartz tube protection, and an O-ring seal is good waterproof, is easy to maintain, and uses up to 8000 hours. It is safe and replaceable.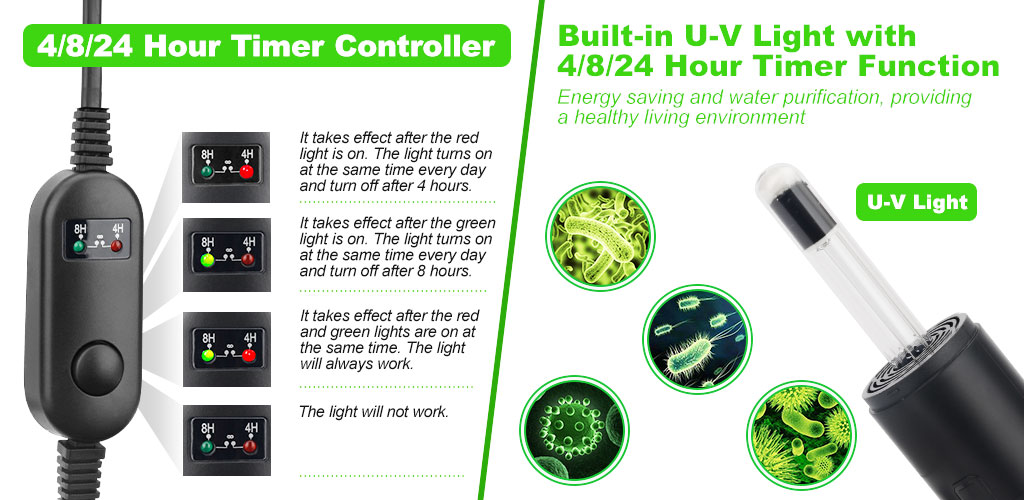 Two Water Outlets
1. Spray Bar: natural rainwater oxygenation and improved aquarium ornamental.
2. Duckbill outlet: water circulation not only can increase oxygen but also continue to produce blisters to make the fish more lively.
Three Powerful Suction Cups
This fish tank filter pump comes with 3 suction cups, and 1 spare suction cup, which can be installed vertically or horizontally on the glass surface, suitable for various water levels fish tanks.
Wide Application
Adjustable flow rate, the filter pump's maximum flow rate is 210GPH. It can adjust the water outlet direction by 180°. Various angles for placement, are suitable for high and low water levels for aquariums. Clean up to 80 gallons tank and suitable for saltwater and freshwater.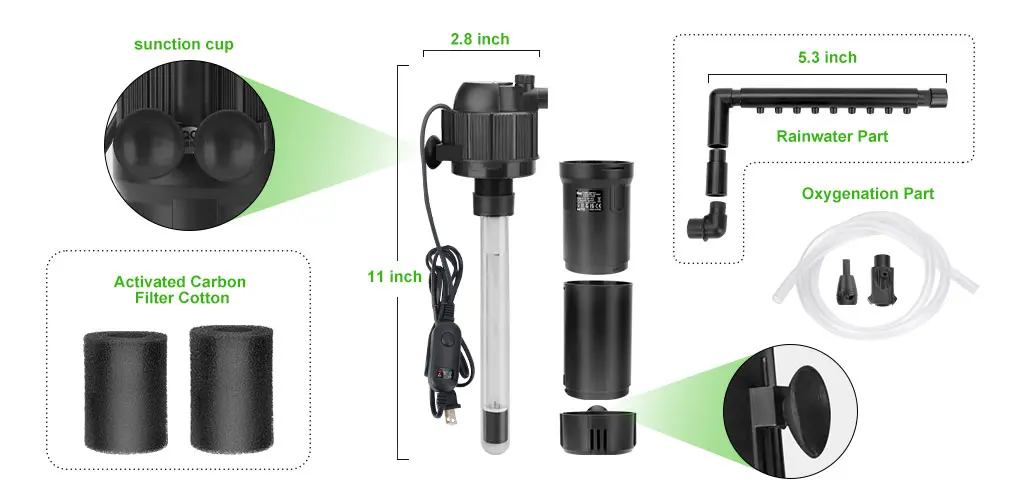 Directions for Use
Use the U-V light timer controller
4/8/24 Hours Timing:
1. Press the button once: red light on, U-V light on at the same time every day, off after 4 hours.
2. Press the button twice: green light on, U-V light on at the same time every day, off after 8 hours.
3. Press the button three times: the red and green lights are on at the same time, and the UV light will be on 24 hours a day.
4. Press the button four times: red and green lights off, U-V lights off.
5. Rotate the water volume valve to adjust the water flow.
6. Rotated 180°left and right to adjust the direction of the water outlet.
Use Tips:
1. Submerge the aquarium filter pump completely when using it.
2. Please unplug the power before cleaning the filter pump.
3. One-year warranty: Please feel free to contact us if you have any questions about the item, and we will reply to you as soon as possible.
Specifications
Manufacturer: hygger
Package Dimensions‏: ‎11.6 x 3.5 x 3.1 inches
Weight: 1.62 Pounds