Product Features
4 Light Modes
Default Mode
L: All-optical + Blue light (changeable); Brightness mimics sunrise to sunset + night effect.
DIY Mode
L1 – L6: All-optical; L7 – L8: Blue.
The brightness (10 levels) and time (any time) of each stage (8 stages in total) can be set by yourself.
Gradient Mode
The brightness & time cannot be set. Cycle colors – dark blue, green, purple, light blue, yellow, and red.
All-day All-optical Mode
Can fine-tune the color of RGB light. Brightness and time cannot be set.
Waterproof upgrade IP68
Waterproof and easy to clean and wipe, no need to worry even if it falls into the water. No need to replace the light, even if the adapter is damaged.
Power-off memory function
After the light resumes work, there is no need to reset the real time. The extendable bracket can be adjusted in length, and can be applied to various freshwater tanks.
Highly efficient heat dissipation
Using 0.05 inch thick aluminum, the fin design increases the heat dissipation area. There is a heat dissipation sticker between the lamp bead and the aluminum material with no gap, and the heat is directly radiated to the outside, so the heat will not be stored in the light.
Note that the residual heat will damage the lamp beads, light decay, and even damage the power supply after a long time.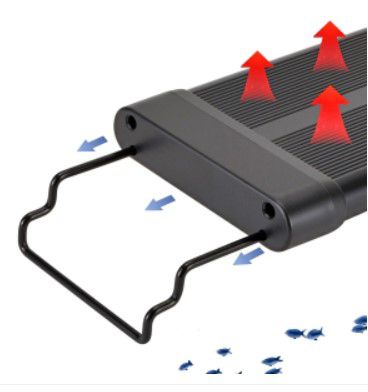 LCD Display Operation
There are four function keys: Mode settings, Up, Down, and Light settings. The main screen displays the real local time (optional 12 hours / 24 hours) , and the time is accurate to second. The two small screens are program timers, which are used to set the start and end time of day and night in mode.
High-quality light
The color of the fish tank light is all-optical, dark blue, green, purple, light blue, yellow, red, and dark red (sign of the start color cycle mode). The light is soft and the color rendering index is close to natural light, protecting eyes and fish, and to refuse the discomfort caused by stroboscopic for fish and viewers. Using high-quality 2835 + 5050 model lamp beads, it lasts a long service life for at least 50,000 hours.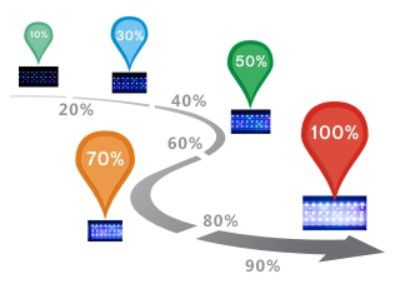 Multiple brightness change
There are 10 levels of brightness that can be adjusted, to simulate the effect of sunrise to sunset. The brightness of the light can be set in 8 different Time Stages, which can realistically simulate natural light. Not only can it brighten the fish, it can also assist the growth of aquatic plants and promote photosynthesis.
Directions for Use
You can restore the factory settings and start over if you set it wrong.
How to Restore Factory Settings?
1. In the non-DIY mode, long press the up and down keys at the same time for a few seconds until "SOP" appears.
2. Unplug the power and plug in again, it can restore the factory settings.
Specifications
20 W for 12 – 18 inches Fish Tank
Case Material: Aluminum alloy plastic
Light size: 30 * 10 * 2.2 cm
Application: 12 – 18 inches
Input voltage: AC 100 – 240 V
Output voltage: DC 15 V
LED quantity: 40 PCs
Rendering index: 89
Lumens: 927
Color temp: 6500-10000 K
Power cord : 4.9 Feet