Product Features
Powerful & Steady Output
hygger 046 aquarium ac air pump provides powerful, reliable airflow to keep high oxygen levels for aquariums and help keep the creatures healthy. It is available in two sizes to handle the aeration for 5 to 600 gallons aquariums, hydroponic, and ponds.
Wide Application
As a vital aerator, the AC air pump can be used in deep tanks up to 8 feet, withstands long-time use to promote oxygen supplement constantly, and is powerful enough to power the long decorative air stones, multiple air stones in one or more tanks, and protein skimmers for saltwater aquariums. Widely suitable for freshwater and marine aquariums.
LCD Screen Display
You can press the -/+ button to adjust the air volume to meet the various needs and press the ON/OFF button to turn on or turn off the ac air pump.
Double Outlets Air Pump
The air pump's double outlets fit for 3/16″ standard airline tubing and can be connected to air stones, sponge filters, aquarium decorations,  and other aerobic equipment. It is easy to insert multiple fish tanks or aquariums through double outlets.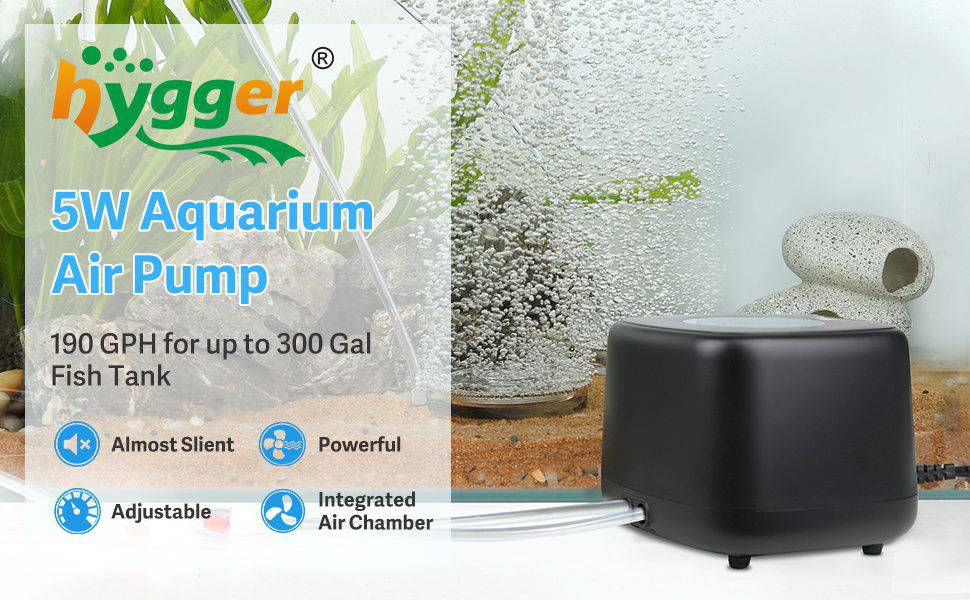 Adjustable Air Flow
The aquarium bubbler comes with 2 flow control buttons and an ON/OFF button. The amount of air for dual outputs can be controlled by simply pressing the "+/-" button, you can adjust the airflow to fully oxygenate tanks.
Ultra Quiet Operation
The hygger ac air pump uses a magnetic ceramic plate driver that operates quietly, without electromagnet interference. The suspended motor, ABS thick shell, and sealed inner baffle greatly reduce noise, while the soft rubber foot pad can effectively cushion the vibration produced by the motor, and the full copper wire motor is stable and durable. With 4 shockproof rubber feet to greatly minimize the vibration, it ensures steadier airflow and reduces noise during aeration work.
Directions for Use
Use Tips
The max noise does not exceed 30DB, which is barely noticeable.
Specifications