Hey, dear friends, are you still in a dilemma about aquarium heaters for your tank? If so, why not take a look at the newly released intelligent heater? Perhaps it would gain your favor.
Basic info about hygger 061 Heater
| | |
| --- | --- |
| Product name | Hygger 061 Intelligent Quartz Heater |
| Price | $39.99-$67.99 |
| Available size | 300W /500W /800W /1000W |
| Ideal tank size | 40-317 gallon |
| Suitable tank types | freshwater tanks & saltwater tanks & coral reef tanks |
| Temperature control range | 59-93℉ (15-34℃) |
| Temperature accuracy | ±1℉ |
Ways to get this heater on your shopping cart, please go:
hygger Amazon Store: hygger Aquarium Heater with Controller or hygger official site: hygger Intelligent Quartz Heater.
Design Philosophy
Seeing that some aquarists are trapped in keeping consistent water temp for tropical fish in large aquariums, we are also trying to develop an aquarium heater with a higher power to help them out. Finally, recently we successfully developed the 061 aquarium heater up to 1000W. It would prevent tropical fish in large tanks from suffering water temperature fluctuation.
Features of Hygger 061 Intelligent Quartz Heater
061 intelligent quartz heater is made of premium corrosion-resistant and shatterproof quartz glass with dual heater tubes and an audio alarm. The detachable protective guard protects fish and other aquatic pets from scalding or punching. Furthermore, dual heater tubes allow speedy heating for your tank of the 061 heaters. Next, let's dive deep into this aquarium heater.
Heater up to 1000W
Hygger 061 heater may be an aquarium heater with the highest power on the market. It reaches, 1000W, which makes it perfect for large tanks up to 317 gallons. Possess this heater, you don't need to install 2-3 small heaters in your large aquariums now.

Auto audio alarm
Facing the water level drops too low, and the heater sensor is exposed to the air, the 061 intelligent heaters will shut off automatically. The error code "E1" would flash on the controller with a beeping alert.
High & low temp alert
| | |
| --- | --- |
| Current water temp | Status of 061 heater |
| Lower than 59℉ | The heater keeps heating, while real-time temp flashes on the controller with a beep alert |
| Higher than 93℉ | The heater will shut off automatically with a beep alert |
| Back to 59-93℉ |  The heater will reset and start work |
Multifunctional controller
The controller shows the real-time water temperature and set temperature, which is available in Fahrenheit (℉) or Celsius (℃). Also, the red indicator light shows that the heater is heating, while the green indicator light means that the temperature is within the set point. The external controller enables you to set the temperature without wetting your hands.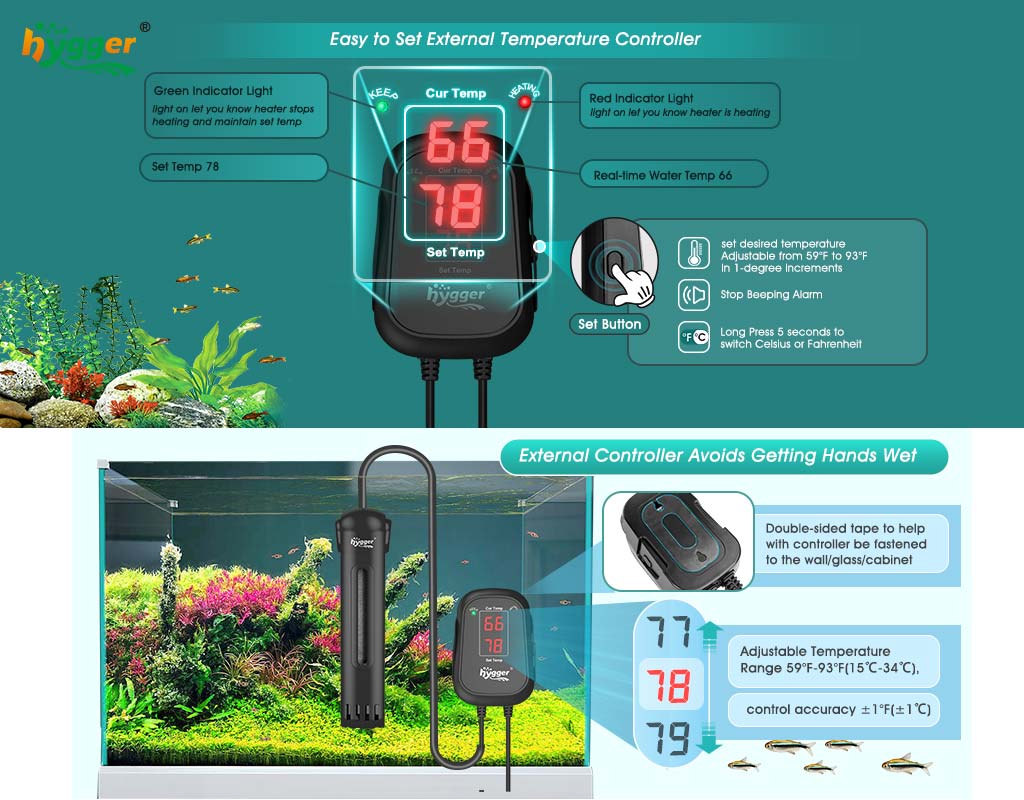 About hygger
Focusing on making professional aquarium products, hygger was founded in Shenzhen, China on 10 July 2018. Hygger also has a representative office in the United States. We offer a variety of aquarium products, including aquarium lights, water pumps, fish tanks, aquarium filters, air pumps, aquarium heaters, aquarium decorations, protein skimmers, fish feeders, air stones, etc. Mastered the PID Variable Frequency Drive Technology, and now we are actively developing the market worldwide.
Media contact info