Description
Buy 1 get 4 free accessories
The air stone kit includes a 2-inch Nano air disc stone, 1 control valve, 1 check valve, and 2 suction cups. Please note air tube and air pump are not included.
Ultra-high dissolved oxygen
The upgraded hygger fish tank air stone releases smaller & denser bubbles doubling the oxygen dissolving rate in water.
Produces small & dense bubbles quietly
When the bubbler bursts into the water, it is less noisy. It can create the atomization effect, and bubble beams make your aquarium like a fairyland.
Weighs enough to sink
5.2 oz / 150 g, easily sit on the tank bottom without a suction cup. The diameter of the air diffuser area is 2 inches, not including the plastic border. Suitable for freshwater and saltwater.
Driven by 2W or larger wattage air pump
The 2-inch air stone is compatible with a 4 mm airline tube. The output airflow is 1L / Min. Please NOTE the deeper you put the air stone underwater, the larger the wattage air pump you may need to drive the air out.
Directions for Use
It is very easy to use the aquarium air stone, just check the picture below if needed.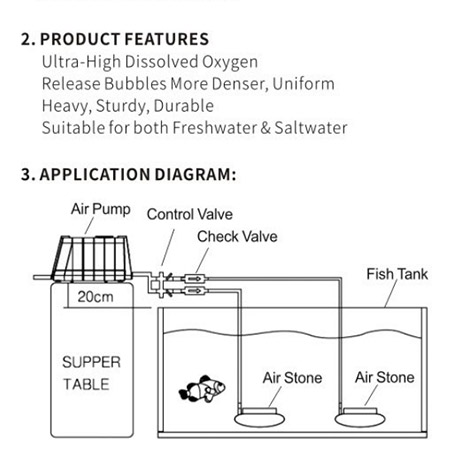 Tips to better use the air stone:
1. Please immerse the air disk stone in the water for 2 hours before use.
2. Please increase the wattage of the air pump properly if the tank water exceeds 15-inch depth.
3. Clean the algae sand and other impurities on the stone's surface once a month, or when you find a decrease in air output.
4. When the power of the air pump meets the bubble stone, the smaller the air output is regulated, the more delicate the bubble will be.
Specifications