Description
Mist-Like Micro Bubbles
The hygger aquarium air diffuser produces bubbles that are richer and more delicate, and the bubbles rise evenly and slowly, allowing aquatic pets to enjoy a bath of oxygen. Increase fish vitality and prevent them from getting hypoxic.
The richer the bubbles, the larger the contact area between the bubbles and the water, providing higher dissolved oxygen filtration, which can add sufficient oxygen into the tank water to increase the vitality of the fish.
Newly Upgraded Air Diffuser
The bubbles are very rich and delicate, like smoke and mist, which is a beautiful scenery in the fish tank. The diffuser fits for 3/ 1″ standard airline tubing. Just put it into the water and connect it to the air pump to instantly produce many bubbles. There is no need to soak the diffuser in water before use, it will bubble immediately after plug-in. It is very easy to use and clean without detergent or brush.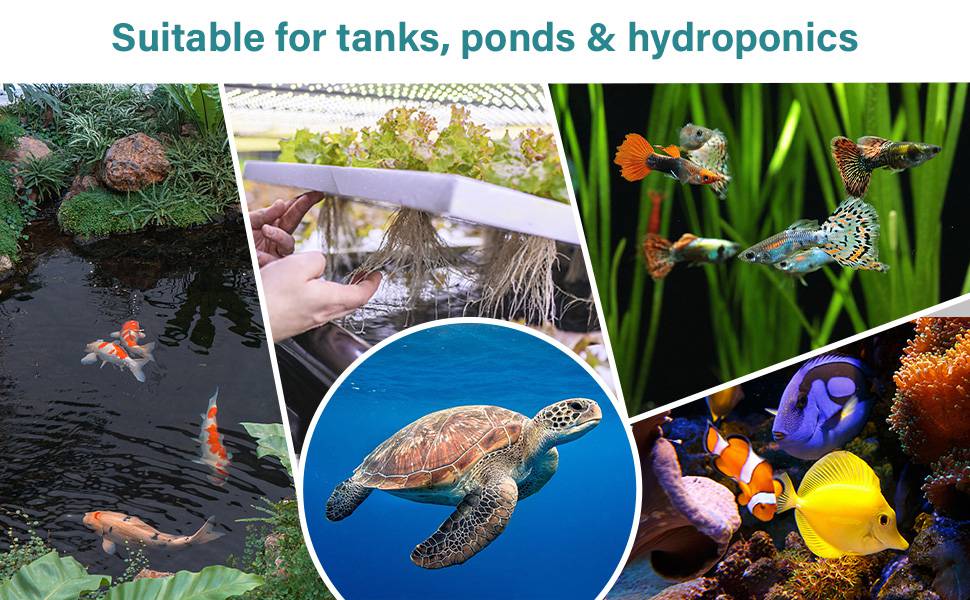 High Double Oxygen Dissolving Rate
The air bubble diffuser produces a good amount of dense bubbles, the contact area between the bubbles and the water is wider, and resulting in a higher dissolved oxygen rate. The diffuser helps to increase oxygen levels, lower CO2, and raise PH, which is great for adding oxygen to fish tanks and hydroponics systems.
Made of EVA material and non-clogging
The fish tank diffuser is made of EVA material and wrapped in a black plastic base. The EVA material is safe and non-toxic. Different from the traditional nano air stones, the air diffuser is corrosion-resistant and does not get clogged with long-term use, you can wipe it gently with a cloth during daily maintenance.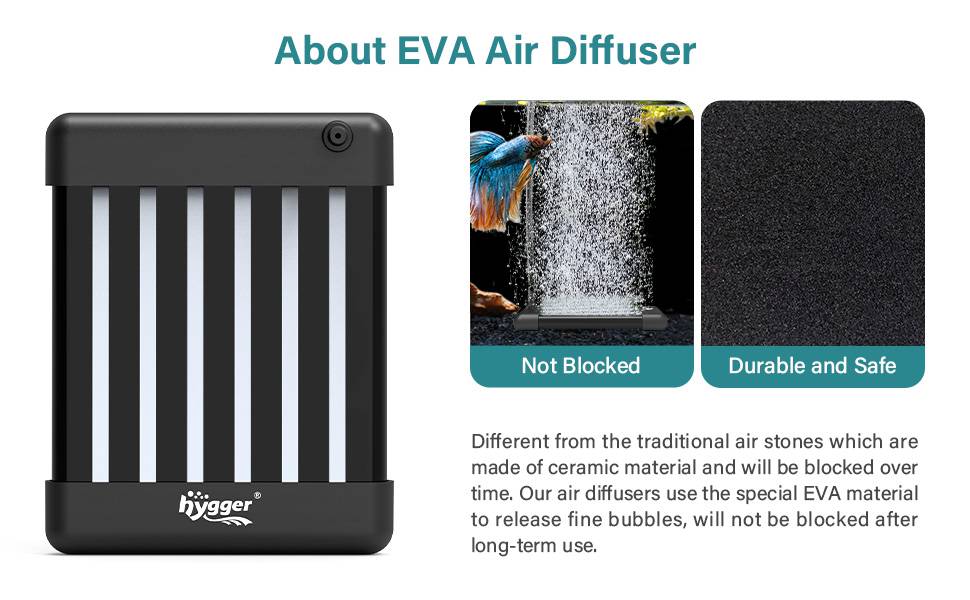 All-in-One Diffuser
The diffuser comes with complete air pump accessories including airline tubing, air bubbler, a suction cup, and a check valve for a basic aquarium aeration setup. It fits for hydroponic systems, ponds, aquariums, fish tanks, and other systems.
Directions for Use
Use Tips
Note: Each aquarium air diffuser measures 4.7″ L x 3.7″ W and weighs 0.6 lb. The recommended air pump power should be ≥ 5W.
Specifications
Product Dimensions‏: ‎4.7 x 3.7 x 0.3 inches; 9.91 Ounces