Description
Accurate Temperature Control
With the benefits of intelligent inverter technology, the hygger aquarium dual-core heater keeps the water at a constant temperature through the built-in chip, and the temperature accuracy is 0.1F, which is much more precise than traditional heaters. The variable frequency heater has three intelligent protectors and a built-in dual temperature control system in Fahrenheit and Celsius. The temperature range is 63-94°F/17-34°C. You can long-pressing the controller's set button for 2–3 seconds to switch them.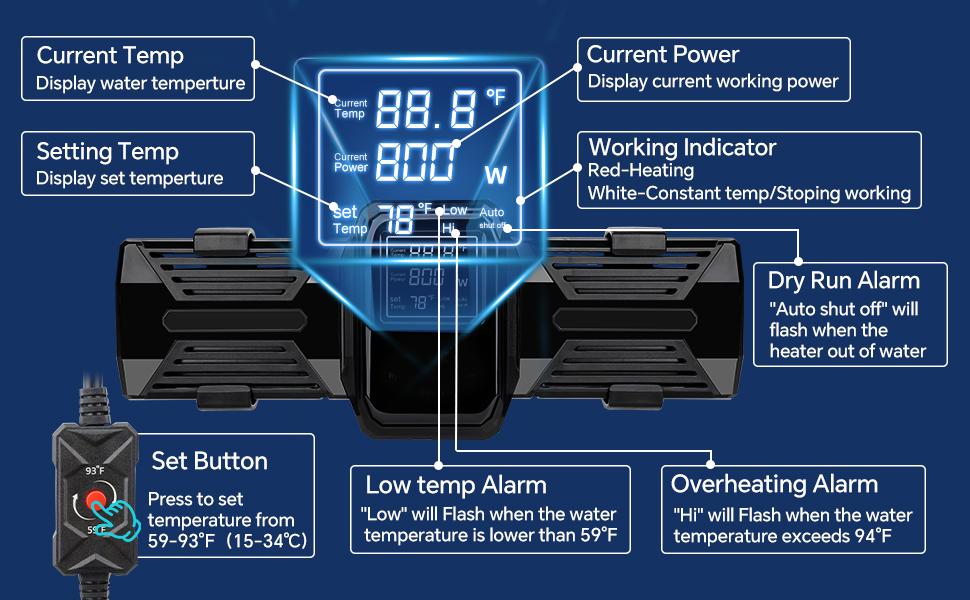 Prevent from Overheating
When the water temperature exceeds 93°F, the heater displays the error code "HH", and automatically stops heating.
Low-Temperature Protection
When the tank water temperature is below 59 °F, it will display "LL" and continue heating.
Dry Running Protection
When the heater outs off the water, "Auto shut off" will flash and automatically cut off the power.
Digital LED Display
The dual-core heater features a unique smart LED screen that is completely waterproof and clearly displays the current water temperature, set temperature, current operating power, error codes, and current operating status.
External Temperature Controller
When the red light is on, the heater starts heating water. When the light turns white, the heater stops working and maintains the temperature. Simply press the set button on the external controller to set the target temperature.
Explosion Proof
The hygger variable frequency heater is made of explosion-proof quartz glass and the most thermally stable nickel-chromium wire to transfer heat to the water quickly and steadily. The heater shell cover is made of heat-resistant ABS material, which can keep your aquatic pets safe.
Power-off Memory Function
If a power outage occurs, the dual-core heater will follow the final settings when the power is restored, because the final settings are stored in the heater's chip.
Directions for Use
Use Tips
How to place the hygger 066 dual-core heater?

Note: Please unplug the power and let the heater cool for 10–20 minutes before taking it out to clean the fish tank or change the water
Specifications