Product Features
Increases aquarium water movement
hygger Aquarium Powerhead Pump simulates a natural current to create a similar water environment for fish and other habitats, giving your fish an opportunity to exercise and feel as if they were in a real river or ocean. In addition, this power head can be used to increase the oxygen level of the water if you add more fish.
Keep water clean
It also assists to stir up the debris and get rid of spots in the fish tank in conjunction with the filter. Save you tons of energy for cleaning the fish tank.
Impressive flow rate
16W 2000 GPH submersible power head is strong enough for tanks sized from 75 gallons to 130 gallons. It can be used in marine, freshwater, and tropical aquariums. Fully submersible and oil-free.
360-degree rotation
If you turn two ball joints, it rotates fully 360 degrees so you can get full flow to all directions and create a natural water motion.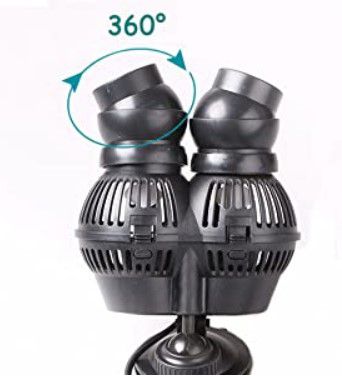 Impellers
Titanium impellers can be used in both saltwater and freshwater aquariums. The rubber end ensures less noise, keeping it quiet while running.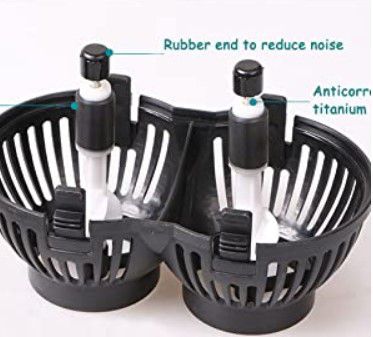 Submersible & Oil -free motor
It is fully submersible and oil-free so it won't pollute the living environment of the fish or other aquatic pets.
Directions for Use
1. Clean the glass where you will place the suction cup.
2. Find a good spot and attach the locking mechanism.
3. Angle the pump powerhead to tune the water flow.
4. Plug it in and get the flow going right away.
Attention: The powerhead should be fully submerged. Otherwise, the working pump would come out of the water surface and make a lot of noise.
What to Do If the Power Head is Not Working?
Reason: It happens when the impeller is out of the track. As two impellers stand loosely at the base, after long usage or impact, they will be out of the track and stop working.
Solution:
1. Shut the power off.
2. Take the pump apart.
3. Take out the impellers and put them into the base again.
4. Assemble the case.
5. Plug it on the go. Try one more time if it's still not working.
Specifications
Power: 16 W
Q / Max.: 8000 L / P
Voltage: 110 v – 120 V / 60 Hz
Dimensions: 5.1″ X 2.8″ X 9.3″ ( 130 mm x 70 mm x 235 mm)
Cord Length: 9.1 Feet / 2.8 m
Capacity: 75 to 130 gallons aquarium