Product Features
Agitate Water & Circulation
hygger mini wave maker creates a surge current in which adding oxygen near the water surface makes fish thrive. It not only provides a natural current for corals and gives fish additional exercise, but also circulates water for evenly heating.
You can adjust the power head to blow up debris in the gravel and conceal the wave maker from view. It is easy to move the unit around during operation without putting your hands into the water.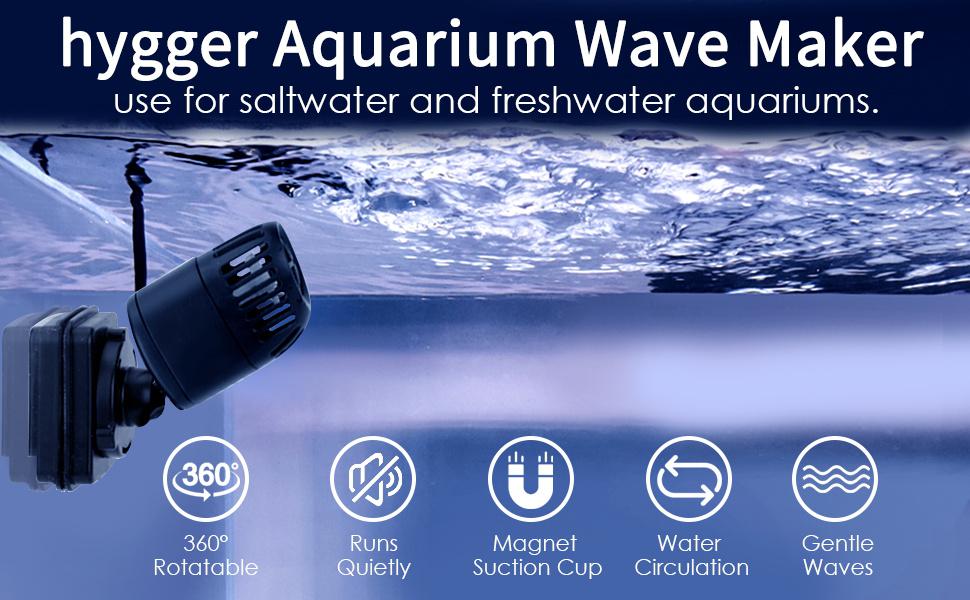 Oxygenation & Filtration
The hygger mini wave maker for aquariums can enhance agitate the water and efficient filtration.
For agitate water: place the mini wave pump near the water surface to create a surge current which adds oxygen to the water.
For efficient filtration: adjust the power head down, its water flow blows up the debris that piles up at the gravel, and eventually be sucked into the filter.
360°Flexible Head
Build in a 360-degree rotatable ball joint design, the mini wave maker can easily adjust any direction of water current to satisfy different angle needs, which helps to reduce dead stains on corners to keep the tank clean.
Easy to Disassemble & Clean
Certified by ETL of a high standard, the power head is coupled with an efficient motor and corrosion-resistant ceramic shaft. It is long-lasting, making wave and saltwater aquariums available. And the protection guard is removable for easier cleaning.
Easy Installation & Magnetic Base
The maker's magnet allows you to easily mount on the 4~10 mm thick glass, and you can freely move to find the optimal place for your tank. It also comes with a cotton pad that is meant to absorb vibration and helps in maintaining less noisy operation.
Directions for Use
Use Tips
Step 1: Rotate a side magnet attachment. Then install the mini wave maker into the ball joint.
Step 2: Put the maker into the tank and close the tank wall.
(The magnet is decent enough to stay securely on a 4~10 mm thick tank)
Step 3: Slide the magnetic holder slowly to fit together.
Note: Do not directly overlap the inside and outside to prevent the glass from breaking. And be careful of your fingers when installing.
Specifications
Size: 2.6 x 2.16x 4.7 inch
Max flow rate: 530GPH/1056GPH
Wattage: 3W/6W
Voltage: AC 110~120V
Power cord length: 5.9FT