Description
Rapid Heating System
The hygger aquarium intelligent heater is made of the most stable nickel-chromium heating wire, which can quickly and stably transfer heat to the surroundings, making water heating faster. It has a built-in dual temperature control system of Fahrenheit and Celsius, you can long press the controller's setting button for 2–3 seconds to switch them. The temperature adjustment range is 59-93°F, the accuracy is±0.1°F, it is very easy to operate in freshwater and saltwater aquariums.
Temperature Alarm
The aquarium quartz heater has an intelligent temperature and water sensor system, when the heater is out of water, or the water temperature exceeds 93℉/below 59℉, the heater will automatically stop heating, and the controller will display error codes and sound an alarm. It will continue to heat when the temperature is below 59℉.
Accurate External Digital Controller
The intelligent aquarium heater is equipped with a super clear digital LCD controller, which displays the current water temperature, and the set temp. , The heating status, and the warning of ultra-low/high temperature/auto shut-off, it is higher resolution than LED, so you can easily know the temperature changes in the aquarium. 10 ft long cable and the external controller can easily set the temperature outside the tanks.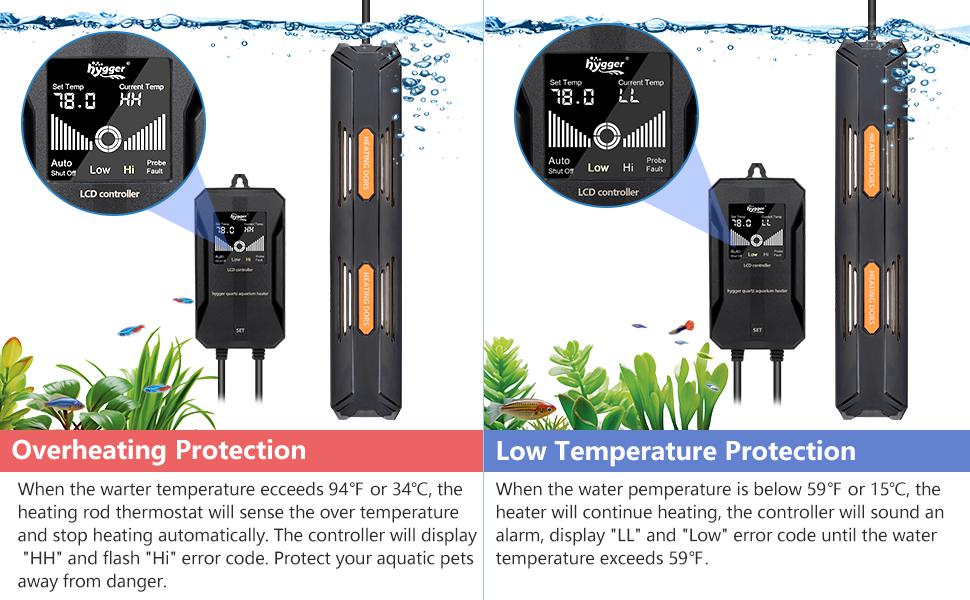 Explosion-proof Quartz Glass Heater
This quartz heater is made of thickened high-temperature resistant quartz glass material and explosion-proof quartz sand, which has a good sealing performance to prevent water from entering, making it a more fish-friendly heater. The heater guard is made of high-quality PC plastic to protect aquarium inhabitants from hurt.
Wide Range of Use
The hygger heater is suitable for 30-260 gallon tanks. It can be used in fish markets, fish tanks, aquariums, fishponds, and other places where aquatic life is kept.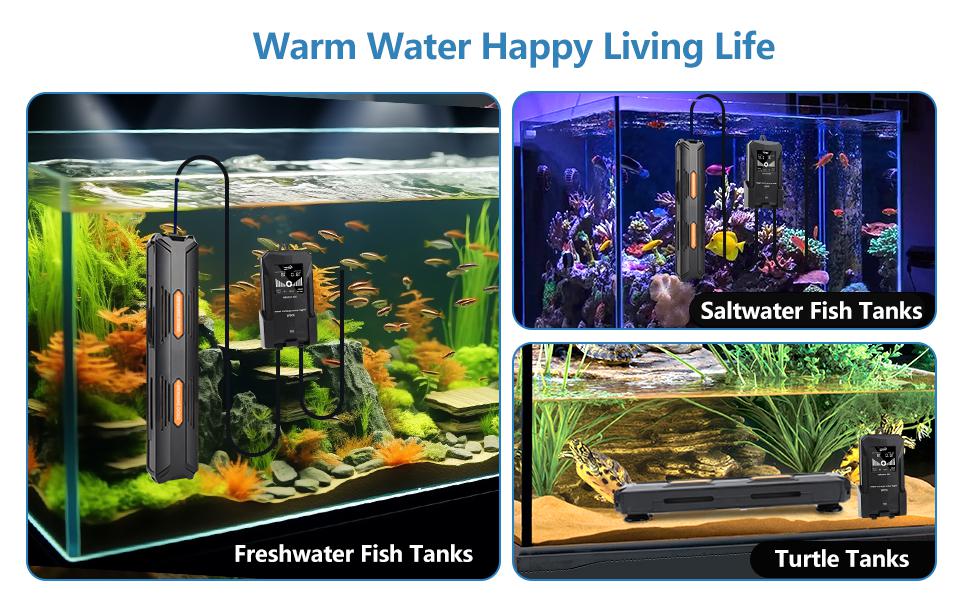 Directions for Use
Use Tips
About aquarium heater Error codes:
Error codes: HH – overheating, LL – low temperature, L1 – heater out of the water.
Note: The hygger intelligent quartz heater comes with three suction cups, a controller bracket, and a hook. Please check the product carefully before use, we provide a 12-month warranty for this product.
Specifications