Product Features
Wonderful fish bowl
The fish tank is designed with ultra-white glass that has high light transmittance (98%) and does not affect the use of the lighting light. The edge of the tank is polished to be smooth so that it would not hurt your hands. It contains a load-bearing bottom plate which is safer and more stable.
Hidden filter and water pump
Unlike the traditional fish tank filter whose parts exposed in the fish tank, we adopt a hidden design with a black partition to hide the filter box (including the filter material bio-cotton, bio-balls, and carbon) and the water pump box (including a water pump and 2 types of water outlets).
Three lighting modes
It is easy to apply a fish tank light as you like. Just power on and touch the switch to control multi-mode lighting. Three lighting modes are available: 6 blue lights lighting; 12 white lights lighting; 18 lights (6 blue and 12 white) lighting. The lighting adopts energy-saving (3.2 W) and long-life LED.
Energy-saving yet powerful water pump
The built-in water pump is energy-saving (5 W). It has a low level of noise but strong power. It has large water flow and fast water circulation speed which will guarantee the number of filtration and full contact between water and air.
Directions for Use
Step 1: Place filter media correctly.
A. Open the tank cover.
B. Put the water pump components in the right side of the filter housing. Please ensure the elbow connector is inserted into the water connector and the water pump should be placed in the direction as shown in figure B.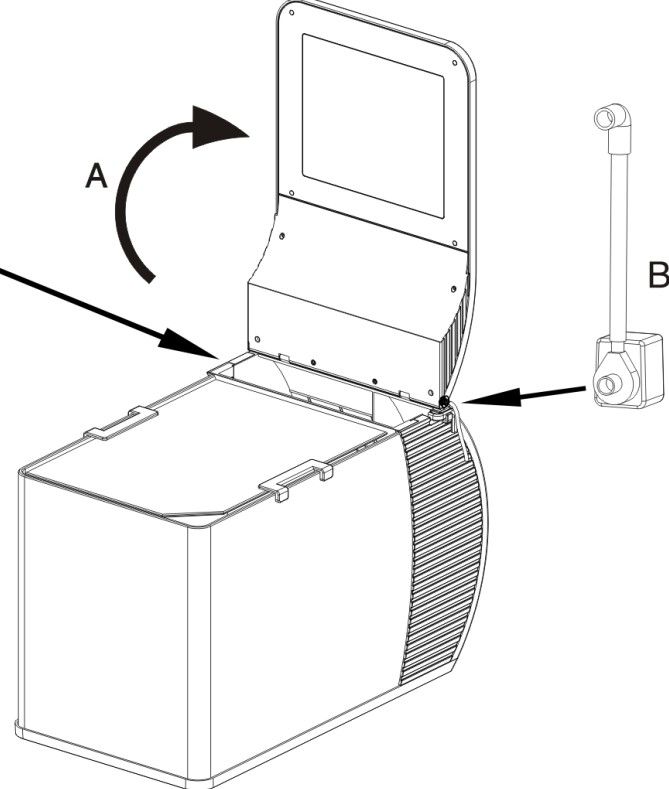 C. Place filter materials by the following order: Cotton, bio-balls, cotton, carbon, cotton, and bio-cotton from bottom to top on the left side of the filter.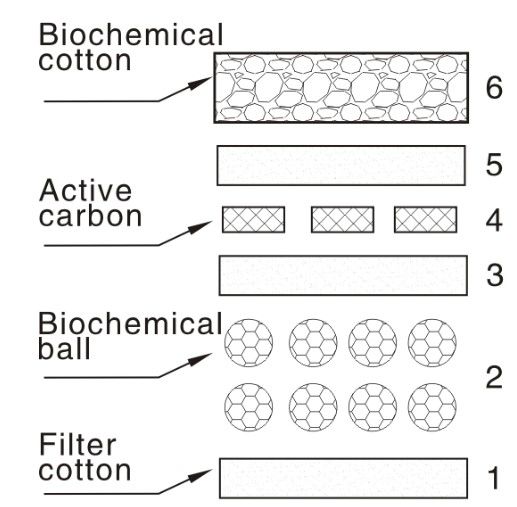 Step 2: The water pump power cord can be hung on the hook in the right side of the tank. Don't pull it too tight.

If you hear the noise of water pump, please put some slack in the power cord.
Step 3: Plug in the power cable and touch the power button to turn on the light.

Step 4: When the water level is at position F (shown in the picture below), fish oil and foam that produced on the surface of the water will be filtered out.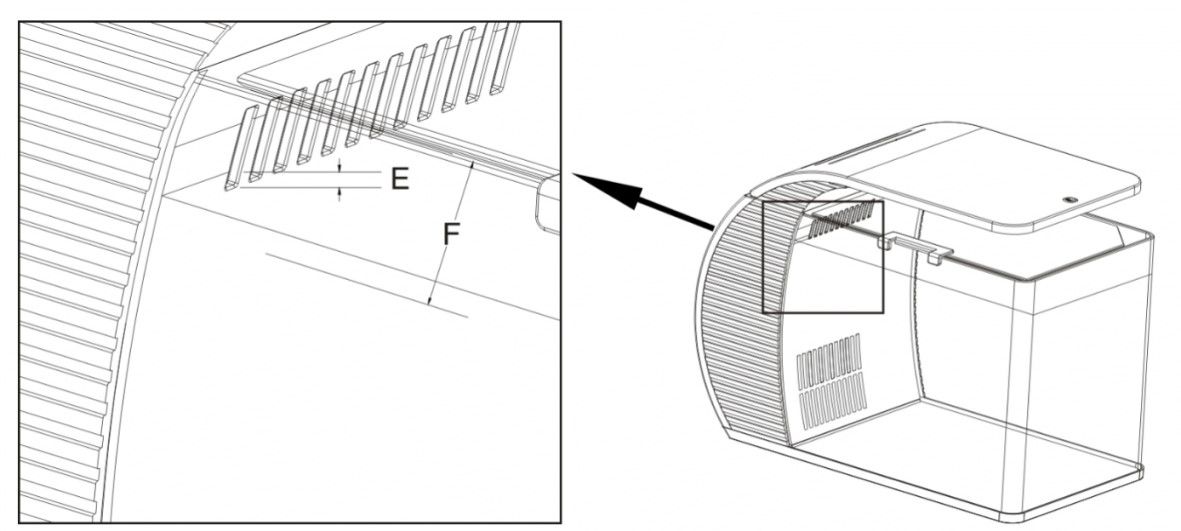 Note: You can fill water to higher filtering slot at the upper end hole above 5 mm distance (above position E) if surface scum is still not being filtered out.
Tips for maintaining your fish tank:
1. To maintain clean glass for viewing, please use a piece of dry paper towel to wipe it clean regularly.
2. When you find the water cloudy, please move the fish into clean water, and replace the water inside the fish tank. And clean the filter media inside the filter housing, or replace with new filter media to ensure the fish have a clean and comfortable living environment.
Specifications
Brand: Hygger
Model: HG-977
Vol. / Freq.: 110 – 240 V, 50/60 Hz
Lamps: 3.2 W
Water Pump: 5 W
Capacity: 5 Gallons ( 19 L)
Dimension: 423 x 226 x 315 (mm)