As we all know, good lighting could boost the sense of beauty. So exactly, an aquarium light is one essential gadget for a fish tank. But when you get an aquarium light, have you ever been confused about how to use it? Take it easy, in this article, we will make a detailed introduction on how to use Hygger 978 aquarium light more easily.
Introduction of Hygger 978 aquarium light
Before introducing how to operate hygger 978 aquarium light, we would like to cover some information about it first.
The Hygger 978 aquarium light, with super-bright 6500K white LEDs and full-spectrum RGB LEDs, can emit bright light to brighten out the colors of fish and plants. It is suitable for fish-only tanks and planted tanks.
Appearance and Device
Sleek metal aluminum shell
The sleek, black metal aluminum shell produces little heat so that it won't raise the water temperature. The metal adjustable legs are suitable for more aquariums.
Dense and bright LED bulbs
Dense and bright LED bulbs provide optimal illumination for fish and plants to grow. Besides, you do not need to worry about splashes and other accidental drops of water, because it is coated with water-resistant material.


Switch timer
After your programming, the light will be auto-on and off without manual adjustment.
20V power supply
It is safe and suitable for 100V – 240V use. Besides, a DC-powered, low-voltage power supply could keep your energy bills down.
Functions
Dimmable
5 levels of intensity available: 10%, 25%, 50%, 75%, 100%
Multicolor
6 single-color available – red, blue, green, purple, cyan, orange, and plus full spectrum light
Timer
3 timers available – 6 hours/10 hours/ 12 hours
24 hours cycle
Once set, you do not need to manually turn on and off the light.
Programming Modes
DIY Mode
If you want to let your fantastic ideas be a reality, DIY mode may be your best choice. Or if you just want to select one color of light for a certain time, the DIY mode can also meet your needs.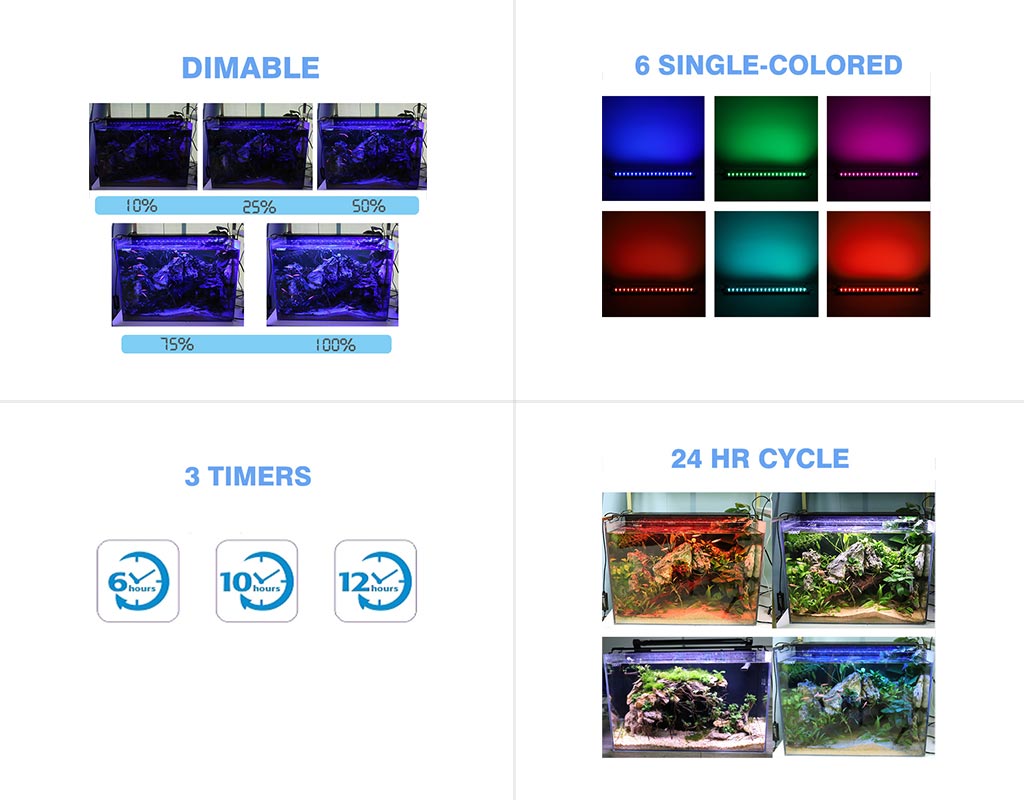 24/7 Mode
If you only need the aquarium light auto on and off, the 24/7 mode is quite suitable for you.
In the 24/7 Mode, the light will start with warm orange light at sunrise, and at noon, it will turn into bright full spectrum light, and it will become starry blue light at nighttime. Finally, it will turn off automatically, and the fish and plants will have over 7 hours of sleeping time. The default light automatically turns on at 6:00 a.m. and turns off at 22:30 p.m., but it depends on the time section you choose. For example, in the time section, if you choose the '8:00' option at 7:50 a.m., it will turn off at 22:20 that day. The next day, it will turn on at 5:50 a.m.
How to operate Hygger 978 aquarium light
This part is the highlight of this article! We will cover detailed information about how to use the Hygger light.
Just to be clear in advance, the relevant information about the Hygger 978 aquarium light is as follows:
hygger 978 Aquarium light

Model

HG-978 18 IN

Lumen

1075

Power

18W

CRI

85

Power adapter

Input: 100-240V-0.5A 50/60Hz

Output: 20V-600mA
Besides, there are also some tips you should notice:
1. If you need to, you can long-press the second button to manually turn off the light.
2. Please keep the controller away from water as it is not waterproof.
3. Do not put the light underwater.
4. You need to reprogram the light if the power fails.
Next, let's enjoy tutorial programming for two different modes.
DIY mode
On and off
On: Press the second button once
OFF: Long press the second button for about 3 seconds
Lighting time
Press the first button to choose the lighting time. There are three lighting times available – 6 hours, 10 hours, and 12 hours. You can choose one of the lighting times, for example, if you choose the '10' hours when you set the light at 7:30 am local time, it will turn off at 5:30 pm. The same as you choose the '12' hours.
Lighting color
Press the second button once, if the lighting color still is not what you want, please press the second button again or more once again. And there are seven colors available – full spectrum and six single colors which are red, blue, green, purple, cyan, and orange.
Lighting intensity
Press the third button once, if the intensity still is not what you want, please press the third button again or more once again. There are five level options – 10%, 25%, 50%, 75%, 100%. And if the intensity level is 10% at the beginning, as you press the button again and again, it will change from 10%, 25%, 50% to 100%, and then go from 100% to 10%. That is to say, if you choose the intensity level of 100%, and press the third button again, the intensity level will become 75%.
After you set the DIY mode, the light will memorize all the lighting time, color, and intensity automatically and auto-loop them every day until you reset it (you can unplug the light and replug it to reset).

24/7 mode
On and off
On: Press the second button once
OFF: Long press the second button for about 3 seconds
Time section
Press the fourth button to choose the time section for the embedded mode. For example, if it is 7:51 a.m. now, you can choose the time section '8:00', and the light will run the 8:00 embedded mode. It will auto change to other modes when time goes to 10:00 am, 12:00, 15:00, 20:00, and 22:00. Finally, the light will shut off at 22:30. It's convenient for aquarists who need to choose the special turn-on mode and don't need to DIY other functions.
However, there is one tip for you. If you choose 24/7 Mode, the lighting color, intensity and time are automatic, and the timer will not work, you just need to set the time section, which means you do not need to set anything but the time section you need.
Notice that if you choose the 24/7 mode, the light intensity is the built-in default intensity and can't reset.
Conclusion
In summary, we have introduced pieces of information about the hgger 978 aquarium light, and we have also covered details about how to operate the light. After reading the article, we believe you have got the information you want, right? Any other questions, please leave your message to NEED HELP. We will try our best to help you out.
FAQs
Q: Is Hygger 978 intended for use on aquariums containing plants that require Low, Medium, or High light levels?
A: The plants require low light needs 50-80 lumens/gallon, medium-light plants require 80-160 lumens/gallon, and the high-light plants' requirement is 160-190 lumens/gallon.
To take 10 gallons as an example, 978 light 14W, 18W, and 22W are suitable for plants needing medium light. As the light specifications show below, you can find suitable watts for various plants.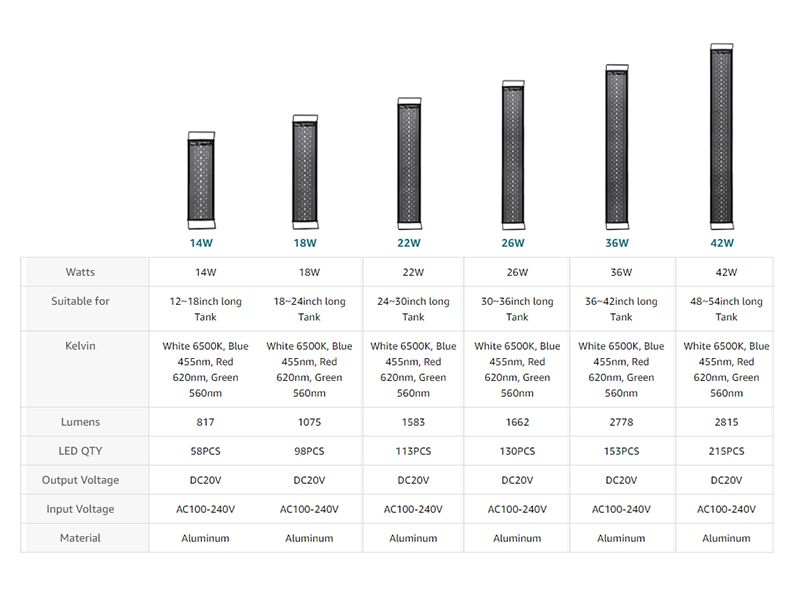 Q: What is the Lux measure of the light output for Hygger 978 at 12″ and 24″?
A: Lux is a unit of luminance, the symbol is LX. It means when an object is illuminated by light uniformly, its luminous flux on one square meter is 1 lumen, then its luminance is 1 lux. So if you want to know the lux measure of the light, you can take a reference of the lumen parameter.
Hygger 978 14W has metal brackets that can be extended to a 12″-18″ tank, so the lumen/lux is 817 at 12″, and the 18W light can be extended to an 18″-24″ tank, its lumen/lux is 1075 at 24″, and 22W is 1583, it can also be used for 24″ tank.