Description
Customized current
Smart aquarium wave maker with a built-in controller mimics ocean waves by setting various flow modes, power, and frequency according to sunrise and sunset, day and night.
Smart LED controller
With an LED display controller, you can set the strength of the wave, and flow modes, and can also set it to 10 minutes auto-off mode for feeding.
Quiet operation
Safe 24-V DC-powered controllable wave makers with energy-efficient magnetic propellers and motors can circulate water quietly, improve water quality, and eliminate dead spots.
Magnetic mount
You can mount it anywhere with a strong magnet suction cup. Plus, you can make installation, adjustments, and removal of a snap.
Directions for Use
You can understand the control panel well in the following picture: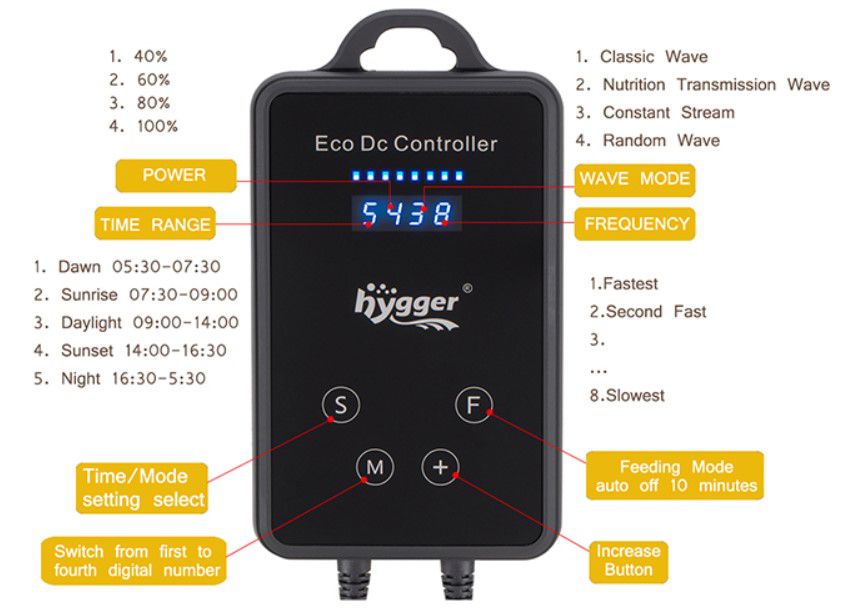 Follow the steps below to install the wave maker pump:
Step 1: Position the power head 15-20 cm below water level.
Step 2: Make sure the wave maker is fully submerged.
Step 3: Connect the power head with a controller with a DC adapter.
Step 4: Plug it in and ready to go.
Maintenance tips:
1. Clean the power head regularly to extend its service life.
2. Controller and adapter are not waterproof, so please keep them dry.
3. Power head must be fully submerged. And do not run in dry!
4. Only suitable for indoor use!
Other useful tips:
1. If you set wave mode into 4 (random mode), power and frequency can't be adjusted. Such as 1040, 2040, 3040, 4040, and 5040.
2. If you set wave mode into 3 (constant stream), frequency can't be adjusted. Such as 5138, 5238, 5338, and 5438.
3. If the power head runs reversely, something is clogged inside. You need to take it out and clean the impeller.
4. Error code 7 means the impeller is stuck. You need to unplug it and remove it to prod the motor fan in a few circles, then restart it.
5. Remember to place the pump 6 inches below the water surface. Water that is too shallow could also cause error 7.
Specifications

5 Period of Time
The default time cannot be set. You can set each period with specific power, flow mode, and frequency. Default settings are shown in the picture below.
4 Levels of Power
There are 4 levels of power to be set from low to high: 40%, 60%, 80%, and 100%.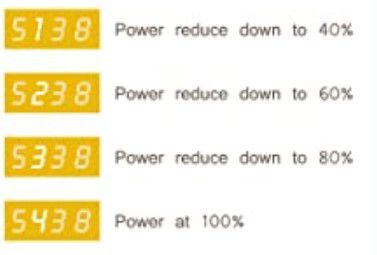 4 Flow Modes
The third digital number indicates wave mode:
1. Classic Wave
2. Nutrition Transmission Wave
3. Constant Stream
4. Random Wave
8 Levels of Frequency
The frequency is programmable. You can set it from fast to slow. "1" is the fastest and "8" is the slowest.